Profiles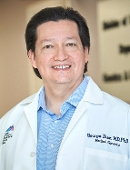 George A Diaz, MD, PhD
About Me
Clinical Focus
Research
Locations
Patient Experience Rating
About Me
Language
Position
CLINICAL PROFESSOR | Genetics and Genomic Sciences
Research Topics
Chemokines, Chemotaxis, Genetics, Genomics, Human Genetics and Genetic Disorders, Immunology, Microtubules, Signal Transduction, Virulence Genes
Multi-Disciplinary Training Areas
Genetics and Genomic Sciences [GGS]
About Me
Language
Position
CLINICAL PROFESSOR | Genetics and Genomic Sciences
Research Topics
Chemokines, Chemotaxis, Genetics, Genomics, Human Genetics and Genetic Disorders, Immunology, Microtubules, Signal Transduction, Virulence Genes
Multi-Disciplinary Training Areas
Genetics and Genomic Sciences [GGS]
About Me
Language
Position
CLINICAL PROFESSOR | Genetics and Genomic Sciences
Research Topics
Chemokines, Chemotaxis, Genetics, Genomics, Human Genetics and Genetic Disorders, Immunology, Microtubules, Signal Transduction, Virulence Genes
Multi-Disciplinary Training Areas
Genetics and Genomic Sciences [GGS]
Clinical Focus
Carnitine Disorders
Fatty Acid Oxidation Defects
Glutaric Acidemia
Glycogen Storage Diseases
Hypoglycemia
Show More
Carnitine Disorders
Fatty Acid Oxidation Defects
Glutaric Acidemia
Glycogen Storage Diseases
Hypoglycemia
Leukodystrophy
Metabolic Encephalopathy
Mitochondrial Myopathy
Newborn Screening
Organic Acidemias
Pompe Disease
Propionic Acidemia
Tyrosinemia
Urea Cycle Defects
Research
The Diaz laboratory studies the molecular basis of inherited human diseases, particularly single-gene disorders. Methodologies applied within the laboratory include linkage analysis, positional cloning, development of animal models and elucidation of disease pathophysiology through biochemical and cell biological studies. By understanding the underlying pathobiology of these disorders, fundamental insights can be gained into more broadly relevant biological or clinical questions.
Patient Experience Rating
The Patient Experience Star Rating reflects our patients' perception of how well their Mount Sinai provider communicated with them during an office visit. The Star Rating is based on patient responses to three questions on a patient experience survey, a standardized questionnaire sent to verified patients and distributed by a third party vendor, Press Ganey. Responses are measured on a scale of 1 to 5, with 5 being the best score.
Care Provider's Explanation
5 out of 5
Care Provider's Concern
5 out of 5
Likelihood to Recommend Care Provider
4.9 out of 5