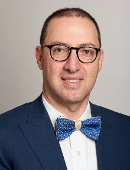 Mount Sinai Doctors
Accepting New Patients
George B Wanna, MD
Ear, Nose, Throat (ENT) / Otolaryngology
Book an Appointment
About Me
Clinical Focus
Video
Education & Certifications
Awards
Locations
Insurance
Publications
Patient Experience Rating
Industry Relationships
About Me
George Wanna, MD, MHCM, FACS serves as Professor and Executive Vice Chair of the Department of Otolaryngology – Head and Neck Surgery at the Mount Sinai Health System. He is also Professor of Neurosurgery at the Icahn School of Medicine at Mount Sinai, Chief of Otology-Neurotology and Director of the Audiology, Hearing and Balance Program at the Ear Institute of New York Eye and Ear Infirmary of Mount Sinai.
Dr. Wanna completed his residency training in Otolaryngology – Head and Neck Surgery at the Icahn School of Medicine of Mount Sinai, which was followed by a two-year fellowship in Otology-Neurotology and Skull Base Surgery at the prestigious Otology Group of Vanderbilt in Nashville, Tennessee. After his fellowship, he joined the faculty in the Department of Otolaryngology- Head and Neck Surgery at Vanderbilt Medical Center and became the Program Co-Director of the Otology-Neurotology Fellowship.
A forerunner of advancing minimally invasive surgical techniques, Dr. Wanna specializes in the endoscopic (through the ear) removal of complex ear and skull base tumors and growths. These include acoustic neuroma, cholesteatoma and glomus jugulare tumors. He is one of a few surgeons worldwide performing endoscopic removal of glomus jugulare tumors, drawing patients near and far for this procedure. Dr. Wanna is also widely recognized for his technological breakthroughs, having performed the world's first mastoidectomy with an "exoscope" (robotic arm) featuring enhanced visualization of the surgical field.
Dr. Wanna's professional activities include teaching, patient care and administration. His research interests include less invasive, safer, and more accurate access to surgical sites within the skull by combining image-guided surgical techniques and miniature parallel robots directly attached to the bone. Another area of his research focuses on the importance of hearing preservation in cochlear implantation utilizing image guidance and a force-based flexible path to improve the performance of non-traumatic cochlear implantation surgical techniques. All the aforementioned research studies are in collaboration with many other departments and are NIH funded.
Additionally, Dr Wanna serves as Director at Large for The North American Skull Base Society (NASBS), is a member of many professional societies, and was recently inducted into the distinguished Collegium Oto-Rhino-Laryngologicum Amictiae Sacrum (CORLAS). He is also a frequent guest speaker at national and international conferences. A recipient of the Mosher Award from the Triological Society for his work on cochlear implants, Dr Wanna has published more than 150 manuscripts in peer-reviewed scientific journals and is the editor of five books on tumors of the ears, jugular paraganglioma and cochlear implants. He is also Editor of the American Journal of Otolaryngology case reports and the Editor-in-Chief for Elsevier's Otolaryngology Case reports. Dr. Wanna is a Senior Examiner for the American Board of Otolaryngology (ABOto) and the American Board of Neurotology.
Language
English, French, Arabic, Spanish
Position
SITE CHAIR, DEPARTMENT OF OTOLARYNGOLOGY, NEW YORK EYE AND EAR INFIRMARY OF MOUNT SINAI | Mount Sinai Beth Israel, EXECUTIVE VICE CHAIR OF OTOLARYNGOLOGY, MOUNT SINAI HEALTH SYSTEM | Otolaryngology, PROFESSOR | Otolaryngology, PROFESSOR | Neurosurgery
Hospital Affiliations
Mount Sinai Beth Israel
Mount Sinai Brooklyn
Mount Sinai Queens
The Mount Sinai Hospital
New York Eye and Ear Infirmary of Mount Sinai
Research Topics
Auditory, Inner Ear, Otolaryngology (ENT)