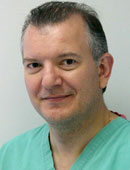 Accepting New Patients
George E Anastassov, MD, DDS
Oral/Maxillofacial Surgery
No Patient Experience Ratings
Book an Appointment
About Me
Education & Certifications
Locations
Insurance
Publications
Industry Relationships
About Me
Dr. Anastassov has extensive training and expertise in treatment of congenital and acquired craniofacial malformations, such as cleft lip and/ or palate, syndromes affecting craniofacial growth and development as well as craniofacial trauma, reconstructive surgery and aesthetic surgery. Dr. Anastassov was privileged to train in some of the most respected educational programs in United States and Europe. He is trained in oral/maxillofacial surgery, plastic surgery and craniofacial and base of the skull surgery.
Dr. Anastassov has lectured extensively on topics ranging from oral implantology to aesthetic, reconstructive and trauma surgery in the United States, Colombia, Mexico, Germany, France, Switzerland, Scotland, Italy, The Netherlands, Romania, Bulgaria, Ukraine, Russia, and so on. Dr. Anastassov has also operated pro bono in most of these countries on children and young adults with craniofacial malformations.
Dr. Anastassov has published extensively in the fields of craniofacial surgery, aesthetic surgery, reconstructive surgery, and dental implantology. Dr. Anastassov's scientific interests are related to the influence of early vs. delayed surgical treatment of cleft lip and/ or palate deformity. The International Cleft Lip and Palate Foundation rate the cleft lip and palate center organized by Dr. Anastassov at the Elmhurst Hospital Center as an Center of Excellence.
Dr. Anastassov is an active member of the American Association of Oral and Maxillofacial Surgeons, European Association for Craniomaxillofacial Surgery, American College of Oral and Maxillofacial Surgeons, The International Cleft Lip and Palate Foundation, and the Hellenic Medical Society of New York. Dr. Anastassov serves on the editorial board or is a reviewer for the following peer reviewed professional journals: The Journal of Oral Surgery, Oral Medicine, Oral Pathology and Radiology (Triple O); The International Journal of Oral and Maxillofacial Surgery; and Folia Medica.
Language
Position
ASSISTANT CLINICAL PROFESSOR | Dentistry
Hospital Affiliations
Mount Sinai Beth Israel
Mount Sinai Brooklyn
The Mount Sinai Hospital