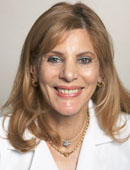 Graciela De Boccardo, MD
About Me
Awards
Research
Publications
Patient Experience Rating
About Me
Dr. De Boccardo earned her M.D. from the Faculty of Medical Sciences of the National University of Cordoba Argentina. She completed her Internal Medicine residence at the Catholic Medical Center in N.Y. and her Nephrology and Renal Immunology fellowships at Rogosin Kidney Center, New York Hospital - Cornell University.
She moved back to Argentina where she worked as a Transplant Physician and Immunologist.
She was appointed Chief of the Transplant Program at the Hospital Privado in the city of Cordoba and Physician-in-charge of the Transplant Immunology Laboratory.
During that time, she was also appointed Professor of Medicine at the Catholic University of Cordoba. Dr. De Boccardo founded the Organ Procurement Agency in Cordoba (CADAIC, in spanish) and she was elected President of the Argentinean Society of Transplantation for a 2 year term.
Since 2004 she is an Assistant Professor of Medicine at MSSM and a Transplant Physician at the RMI.
She is Board Certified in Internal Medicine
Language
Position
ASSOCIATE CLINICAL PROFESSOR | Medicine, Nephrology
Hospital Affiliations