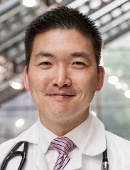 Harry (hyung) Cho, MD
About Me
Education & Certifications
Awards
Locations
About Me
Dr. Hyung (Harry) Cho, MD, FACP, SFHM is the inaugural Chief Value Officer, SAVP of NYC Health + Hospitals, the largest public health system in the US with 11 hospitals, 5 post-acute care facilities, and 70 outpatient centers serving over 1 million patients per year. His work focuses on the intersection of overuse and patient safety, and he aims to eliminate unnecessary testing and treatment that cause physical and financial harm to patients.
Since Dr. Cho became an academic hospitalist in 2011, he received over 60 awards and recognitions. He was named Top 25 Innovators by Modern Healthcare, and he was recognized in three national "Under 40" lists - Top 25 Emerging Leaders by Modern Healthcare, 40 Under 40 Leaders in Health by National Minority Quality Forum, and 50 Leaders in Healthcare Under 40 from Becker's Hospital Review. He received the SHM Award of Excellence for Clinical Leadership for Physicians, AMA Excellence in Medicine Leadership Award, and Top Hospitalist honor from ACP Hospitalist magazine. His collective work in high-value care at Mount Sinai was recognized with both the Quality and Practice Innovation Award from SGIM and the Award of Excellence for Teamwork in Quality Improvement from SHM. At NYC Health + Hospitals, his work has been recognized with two Gage Awards from America's Essential Hospitals.
Nationally, he serves in various roles, including COVID-19 Real Time Learning Network Advisory Committee for CDC and IDSA, Quality Improvement Coach and Annual Scientific Program Committee for ACP, Public Policy and Hospital Quality and Patient Safety Committees for SHM, and Director of QI Implementation at High Value Practice Academic Alliance. His former roles include Senior Fellow at Lown Institute and Chair of SHM High Value Care Committee, where he led the co-creation of Choosing Wisely recommendations with patient advocates. He lectures widely on implementation of value, quality and safety, and his work has been published in JAMA Internal Medicine, Health Affairs, and Annals of Internal Medicine.
Language
Position
ASSISTANT CLINICAL PROFESSOR | Medicine, Hospital Medicine