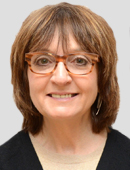 Mount Sinai Doctors
Helen S Mayberg, MD
Neurology, Neurosurgery, Psychiatry
No Patient Experience Ratings
About Me
Clinical Focus
Video
Education & Certifications
Awards
Research
Insurance
Publications
Industry Relationships
About Me
Helen S. Mayberg, MD, is a neurologist renowned for her study of brain circuits in depression and for her pioneering deep brain stimulation research, which has been heralded as one of the first hypothesis-driven treatment strategies for a major mental illness. She is the founding Director of Mount Sinai Health System's The Nash Family Center for Advanced Circuit Therapeutics, a center which advances precision surgical treatments for neuropsychiatric disorders through the rapid conversion of neuroscience and neuroengineering innovations that correct brain circuit abnormalities to restore mood as well as motor and cognitive functioning.

As a behavioral neurologist, Dr. Mayberg has established an international reputation for her pioneering research to map the brain circuits implicated in depression. Early in her career, she developed one of the first "network" models for mood disorders—incorporating fundamentals of neuroanatomy and brain connections with imaging technologies—to propose an alternative neurological view of this classical psychiatric condition that extended beyond the neurochemical models that had dominated for decades. This circuit approach has evolved over the years and continues to anchor many contemporary studies of mood disorders, including the development and latest refinements of deep brain stimulation, a procedure for treatment-resistant depression that involves placing electrodes deep in the brain and turning them on at an amplitude and frequency that disrupts the activity between various brain regions.

Using positron emission topography (PET) scans and later, functional magnetic resonance imaging (MRI), combined with keen neuropsychiatric evaluation, Dr. Mayberg identified Brodmann area 25 (BA25), a brain area strategically positioned to impact the frontal lobes as well as deep regions in the amygdala, hippocampus, basal ganglia, and brainstem, which together regulate emotion, motivation, memory, self-reflection, sleep, and other basic drives, all of which can be disrupted in depressed patients. She found that the wiring of BA25 to these other regions proved critical to understanding the normal interactions of emotions and thought. Subsequent pivotal studies demonstrated that when BA25 was activated by intense sadness, higher centers in the frontal cortex shut down; similarly, when depression was treated, BA25 activity was reduced and frontal regions returned to normal functioning. While at the University of Toronto in the early 2000s, Dr. Mayberg led a research team that tested the first use of deep brain stimulation of BA25 in patients who had become unresponsive to all available antidepressant treatments. The surgical technique uses activation of electrodes placed in the brain to adjust and correct the abnormal communication between BA25 and other regions of the brain.

Dr. Mayberg received an MD from the University of Southern California. She trained at the Neurological Institute of New York at Columbia University and was a post-doctoral fellow in nuclear medicine at Johns Hopkins Medicine. Immediately prior to joining Mount Sinai, Dr. Mayberg was Professor of Psychiatry, Neurology, and Radiology and held the inaugural Dorothy C. Fuqua Chair in Psychiatric Neuroimaging and Therapeutics at Emory University School of Medicine. She is a member of the National Academy of Medicine, The American Academy of Arts and Sciences and the National Academy of Inventors.

As Director of The Center for Advanced Circuit Therapeutics at Mount Sinai, Dr. Mayberg builds a cross-disciplinary platform for collaborative translational research that will bring together clinical colleagues in neurology, neurosurgery, and psychiatry with experts from neuroscience, imaging, engineering, bioinformatics, neuro-engineering, and computational neuroscience to foster the development of new circuit-based strategies and delivery of state-of-the art individualized treatments for patients with advanced neuropsychiatric disorders.

A close partnership between Dr. Mayberg and Brian H. Kopell, MD, Director of the Center for Neuromodulation within the Department of Neurosurgery at Mount Sinai, is the core of the program. Dr. Mayberg will also establish ties between the Center and the many basic and clinical researchers across the Mount Sinai Health System focused on neuropsychiatric disorders. In particular, she will work closely with experts from the Depression and Anxiety Center; Movement Disorders Center, The Epilepsy Center; The BioMedical Engineering and Imaging Institute (BMEII); The Friedman Brain Institute; and many departments and divisions across the Icahn School of Medicine and within the Mount Sinai Health System and many departments and divisions across the Icahn School of Medicine and within the Mount Sinai Health System.

Laboratory: https://icahn.mssm.edu/research/advanced-circuit-therapeutics
Language
Position
PROFESSOR | Neurology, PROFESSOR | Neurosurgery, PROFESSOR | Psychiatry, PROFESSOR | Neuroscience
Hospital Affiliations
Mount Sinai Morningside
The Mount Sinai Hospital
Mount Sinai West
Research Topics
Depression, Imaging, Neurology, Neuromodulation, Neuroscience, Psychiatry
Multi-Disciplinary Training Areas
Artificial Intelligence and Emerging Technologies in Medicine [AIET], Neuroscience [NEU]