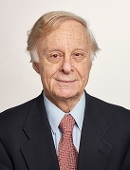 Henry Lothane, MD
About Me
Research
Publications
About Me
Dr. Henry Lothane is a board-certified psychiatrist; Clinical Professor of Psychiatry at Icahn School of Medicine at Mount Sinai; Distinguished Life Fellow of the American Psychiatric Association. Dr. Lothane is also a psychoanalyst and a member of the International Psychoanalytical Association and the American Psychoanalytic Association, and an honorary member of the Polish Psychiatric Association.
At Mount Sinai Dr. Lothane served was a member of the Mount Sinai Consultation-Liaison Division and taught generations of medical students and residents receiving the Nancy Roeske Certificate of Excellence for Teaching of Medical Students from the American Psychiatric Association and the Mount Sinai School of Medicine Teacher of the Year Award. He has an entry in Wikipedia: https://en.m.wikipedia.org/wiki/Henry_Lothane
In addition to English, Dr. Lothane is also fluent and practices in French, German, Hebrew, Polish, Russian and Spanish. He serves as a psychiatric expert for the German Consulate in New York in evaluating restitution claims of Holocaust survivors. Dr. Lothane authored two books on the famous Schreber Case and co-authored two books on Schreber and Thomas Szasz and nearly 90 articles in different languages listed in PubMed. Some of his papers are posted on ResearchGate where they garnered over 4,000 reads.
He received the Authors' Recognition Award from the Postgraduate Center for Mental Health for his 1992 book In Defense of Schreber: Soul Murder and Psychiatry; the Sigmund Freud Award from the American Society of Psychoanalytic Physicians; and the Thomas S. Szasz Award for his work on the Schreber Case.
Current interests:
Drug addiction and dependence and psychedelic treatment.
Language
Position
CLINICAL PROFESSOR | Psychiatry