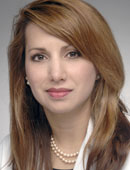 Mount Sinai Doctors
Hina Chaudhry, MD
Internal Medicine, Cardiology (Heart), Cardiovascular Disease (Heart Disease)
No Patient Experience Ratings
About Me
Clinical Focus
Education & Certifications
Awards
Insurance
Publications
Industry Relationships
About Me
Dr. Chaudhry is the Director of Cardiovascular Regenerative Medicine and is also a developmental geneticist with expertise in cell cycle biology, stem cell biology, and regenerative biology.

Specialties: Internal Medicine, Cardiovascular Disease

Board Certifications: Internal Medicine, Cardiovascular Disease

Chaudhry Laboratory
The laboratory's mission is to: Regenerate the Human Heart in Our Lifetime
The Chaudhry Laboratory is focused on developing novel strategies for cardiac repair, whether by harnessing the cell cycle machinery to promote endogenous cardiomyocyte proliferation or by investigating novel stem cell types with intrinsic genetic capacity for cardiomyocyte differentiation. We were the first to introduce cell cycle regulation for the treatment of heart disease by building on multiple small animal studies to utilize a gene therapy approach in a porcine infarct model to successfully and safely increase the number of peri-infarct cardiomyocytes by 55%, and to document actual cytokinesis of adult porcine cardiomyocytes with novel live cell imaging tools developed in our laboratory. This work has been extended into the study of primary adult human cardiomyocyte cytokinesis and is ready for clinical development. We have also discovered a novel cell population harvested from the term human placenta that is uniquely poised for cardiovascular differentiation, and this builds upon our studies of fetal-maternal crosstalk and how this is functionally relevant for cardiac repair.
Ongoing research projects include:
Studies of the epigenetic control of cell cycle silencing in the mammalian heart
Interactions of cell cycle proteins with cardiac contractile proteins and how this may aid functional recovery in chronic heart failure
Development of an allogeneic cell therapy strategy utilizing CDX2 cells for heart repair and other types of organ repair
Highlighted publications:
Vadakke-Madathil S, Wang BJ, Oniskey M, Dekio F, Brody R, Gelber S, Sperling R, Chaudhry HW: A Novel Cardiogenic Progenitor Cell Population Found in Human Placenta, in submission.
Vadakke-Madathil S, LaRocca G, Raedschelders K, Yoon J, Parker SJ, Tripodi J, Najfeld V, Van Eyk JE, Chaudhry HW: Multipotent Cdx2 cells from placenta regenerate the heart. Proceedings of the National Academy of Science, 2019 June 11;116(24): 11786-11795.
Vadakke-Madathil S and Chaudhry HW: Cardiac Regeneration: Time to Revisit Nature. Circulation Research, 2018 June 22; 123(1): 24-26.
Shapiro S, Ranjan A, Kawase Y, Cheng RK, Kara RJ, Bhattacharya R, Martinez GG, Sanz J, Garcia MJ, Chaudhry HW: Cyclin A2 Induces Cardiac Regeneration After Myocardial Infarction Through Cytokinesis of Adult Cardiomyocytes. Science Translational Medicine, 2014 Feb 19; 6(224): 224ra27
Kara RJ, Bolli P, Karakikes I, Matsunaga I, Tanweer O, Altman P, Shachter N, Nakano A, Tripodi J, Najfeld V, Chaudhry HW: Fetal Cells Traffic to Injured Maternal
Myocardium and Undergo Cardiac Differentiation. Circulation Research, 2012 Jan 6;110(1): 82-93. original article and cover figure.
Cheng RK, Asai T, Tang H, Dashoush NH, Kara RJ, Costa KD, Naka Y, Wu EX, Wolgemuth DJ, Chaudhry HW: Cyclin A2 Promotes Cardiac Regeneration after Myocardial Infarction and Prevents Heart Failure. Circulation Research, 2007 Jun 22;100(12):1741-8. original article and cover figure.
Woo YJ, Panlilio CM, Cheng RK, Liao GP, Atluri P, Cohen JE, Chaudhry HW: Therapeutic Delivery of Cyclin A2 Induces Myocardial Regeneration and Enhances Cardiac Function in Ischemic Heart Failure. Circulation, 2006;114:I-206 – I-213.
Chaudhry HW, Dashoush N, Tang H, Zhang L, Wang X, Wu EX, Wolgemuth DJ: Cyclin A2 Mediates Cardiomyocyte Mitosis in the Postmitotic Myocardium. Journal of Biological Chemistry, Aug 20 2004; 279 (34): 35858-35866.
Language
Position
PROFESSOR | Medicine, Cardiology
Hospital Affiliations
Mount Sinai Queens
The Mount Sinai Hospital
Multi-Disciplinary Training Areas
Development Regeneration and Stem Cells [DRS]