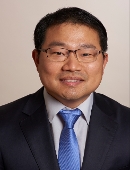 Hyunsuk Suh, MD
About Me
Awards
Research
Locations
About Me
Dr Hyunsuk Suh is a faculty at the Department of Surgery at Mount Sinai Beth Israel; Assistant Professor of Surgery at the Icahn School of Medicine at Mount Sinai. Dr. Suh attended the Emory University for his undergraduate degree and matriculated from the Johns Hopkins School of Medicine for his medical degree. He completed his general surgery residency at the Boston University Medical Center while training with Dr. David McAneny, Dr. Jennifer Rosen and Dr. Gerry Doherty. Aspiring excellence in endocrine surgery, Dr. Suh pursued his endocrine surgery fellowship training at the Massachusetts General Hospital, Harvard Medical School in Boston under the mentorship of Dr. Richard Hodin, Dr. Greg Randolph, and Dr. Sareh Parangi among others. During his training, he was motivated to learn the latest technology and minimally invasive approaches.
Dr. Suh took a unique path and pursued an international fellowship in robotic endocrine surgery at the Seoul National University Hospital in South Korea where the bilateral axillo-breast approach (BABA) robotic thyroidectomy was developed. He trained with the inventor Dr. Yeo-Kyu Youn and his protégé Dr. Kyu Eun Lee and Dr. June Young Choi.
Dr. Suh has mastered the approach and performed first BABA robotic thyroidectomy in the US, and he currently offers this special hidden-scar operation to patients with benign and malignant thyroid diseases. Dr. Suh is also actively involved in research. During his training, he worked in a surgical oncology research lab under Dr. Jennifer Rosen.

His research and publications are focused on thyroid cancer etiology and diagnosis. Particularly, his research in optical probe biopsyis a novel, minimally invasive and cost-effective diagnostic method for thyroid nodules.
He is also interested in utilization of ultrasound as a non-invasive method of vocal cord evaluation in patients who is undergoing neck surgeries.
Dr. Suh is currently working with a novel molecular imaging technology to enhance the field of image-guided surgery in endocrine surgery.
Relating to his work, Dr. Suh has authored numerous peer-reviewed articles and chapters. He also has given several presentations at national and international meetings.
With his training in endocrine and robotic surgery, Dr. Suh provides services for all endocrine related diseases while offering the novel remote-access endoscopic and robotic approaches.
In the News
Fox News Health: Doctor offers innovative scar-less thyroid surgery
Language
Position
ASSISTANT PROFESSOR | Surgery