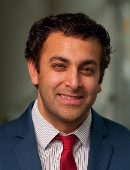 Paul Singh, MD
About Me
Research
Locations
About Me
Inder Paul Singh, MD, MPH, is an Assistant Professor of Neurosurgery, Neurology, and Radiology in the Mount Sinai Health System and Director of Cerebrovascular Services at Mount Sinai West. He specializes in the endovascular and minimally invasive treatment of different forms of stroke, aneurysms, arteriovenous malformations, dural arteriovenous fistulas, cavernous malformations, and other vascular diseases of the brain and spine. Dr. Singh was previously an Assistant Professor at Rutgers New Jersey Medical School where he was Co-Director of the Comprehensive Stroke Center, Fellowship Director of Vascular Neurology, and Co-Director of the Primary Stroke Center at Newark Beth Israel Medical Center.
Dr. Singh obtained his undergraduate degree with a double major in Biology and Chemistry and completed research in Neurosciences at the College of William and Mary in Williamsburg, Virginia. He completed his medical degree at the Medical College of Virginia in addition to a Masters in Public Health at George Washington University. He finished his residency at Georgetown University Hospital in Neurology and was the Chief Resident at both Georgetown Hospital and the Veteran's Administration Hospital in Washington, DC. Dr. Singh subsequently completed a Vascular Neurology fellowship at Stanford Hospital in Palo Alto, California, where he stayed on faculty for a year and specialized in Vascular Neurology. While on faculty at Stanford, Dr. Singh was awarded the Teaching Attending of the Year. He then completed a second fellowship in Neuroendovascular Surgery at Weill Cornell Medical Center in New York City. He has a Subspecialty Certification in Neuroendovascular Surgery granted by The Society of Neurological Surgeons Committee on Advanced Subspecialty Training.
Dr. Singh is dual boarded in Neurology and Vascular Neurology, which allows him to bring a unique perspective in diagnosing a variety of vascular diseases of the brain and spine, including strokes, aneurysms, arteriovenous malformations (AVMs), and tumors. His subspecialty training in Neuroendovascular Surgery gives him the ability to use cutting edge technology to treat these conditions with a minimally invasive approach. He also participates in clinical research trials in stroke, providing patients the opportunity to participate in new therapies. Dr. Singh has authored several peer-reviewed publications and multiple book chapters.
Language
Position
ASSISTANT PROFESSOR | Neurosurgery, ASSISTANT PROFESSOR | Neurology, ASSISTANT PROFESSOR | Diagnostic, Molecular and Interventional Radiology