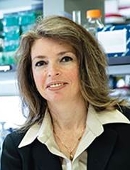 Inga Peter, PhD
About Me
Video
Education & Certifications
Locations
Publications
About Me
Dr. Peter is Vice Chair of the Department of Genetics and Genomic Sciences, a Professor of Genetics and Genomic Sciences, and a faculty member of the Icahn Genomics Institute.
She received her PhD in Genetic Epidemiology from Tel Aviv University, Israel and completed a postdoctoral training at Tufts University while working on the Framingham Heart Study.
Dr. Peter is the Associate Director of the PhD Program in Clinical Research and Director of the Institutional Early Career Development Program (KL2). She also leads the Mentoring Program in the Department of Genetics and Genomic Sciences and the Icahn Institute for Data Science and Genomic Technology.

Research:

Dr. Peter's primary research focus is on the assessment of the role of genetics, genomics and the microbiome in the pathogenesis of complex disorders, with the focus on inflammatory bowel disease (IBD). Recently, she led numerous efforts to establish genetic, clinical and therapeutic link between IBD and Parkinson's disease. These findings are now used to develop novel approaches to diagnose and treat these two seemingly unrelated diseases. She is also the Principal Investigator of the MECONIUM (Exploring MEChanisms Of disease traNsmission In Utero through the Microbiome) study, aimed to understand the effects of maternal IBD on the initial bacterial colonization and development of the immune system in the offspring. Dr. Peter also leads the first IBD prevention trial, Modulating Early Life micrObiome through DietarY Intervention in Crohn's Disease with the goal to test if dietary intervention during pregnancy could facilitate the development of a healthy microbiome in babies born to mothers with IBD.

In addition to IBD research, Dr. Peter is the Principal Investigator on a series of genetic and systems pharmacology studies of cardiovascular, metabolic and renal comorbidies, as well as adverse effects associated with antiretroviral therapy, in persons living with HIV. She is also leading a project aimed to identify genetic predictors of non-syndromic craniosynostosis, one of the most common birth defects.
Language
Position
PROFESSOR | Genetics and Genomic Sciences
Research Topics
Cardiovascular, Genetics, Genomics, Human Genetics and Genetic Disorders, Inflammatory Bowel Disease (IBD), Microbiology
Multi-Disciplinary Training Areas
Genetics and Genomic Sciences [GGS]