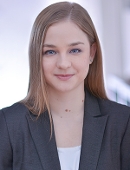 Irini Batsis, MD
About Me
Industry Relationships
About Me
Irini Batsis, MD, is an Assistant Professor of Pediatrics in the Division of Pediatric Hepatology at the Icahn School of Medicine at Mount Sinai and the Mount Sinai Kravis Children's Hospital and Mount Sinai's Recanati/Miller Transplantation Institute. Dr. Batsis obtained her medical degree from the National and Kapodistrian University of Athens, Greece, School of Medicine. She completed her Pediatric residency at Lewis M. Fraad Department of Pediatrics, Jacobi Hospital, followed by a fellowship in Pediatric Gastroenterology, Hepatology and Nutrition at the Johns Hopkins University School of Medicine, and a fellowship in Pediatric Transplant Hepatology at Boston Children's Hospital.
Dr. Batsis' areas of expertise include pediatric liver disease, cholestatic liver disease, biliary atresia, autoimmune hepatitis, acute and chronic liver disease, cirrhosis, liver failure/liver transplantation. She is seeking to gain a better understanding of post-liver transplant complications.
Dr. Batsis' research focuses on long-term outcomes in pediatric liver transplantation and optimization of patient and graft survival rate. She is a member of a multi-institutional consortium for innovation in pediatric liver transplant clinical care.
Personal statement: Children should be able to enjoy life, dream about their future and fulfill their potential, and a chronic illness should not be a burden. Hence, I am aiming to a more holistic approach to children with liver diseases and liver transplantation that embraces the overall physical, social, psychological well-being. My goal is to implement an integrated patient-centered care where the collaboration of active and informed patients and their families, with responsive clinicians, in the decision making will lead to treatment plans that prioritize patient's needs.
Language