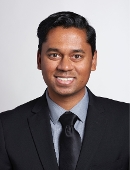 Isuru S Jayaratna, MD
About Me
Clinical Focus
Industry Relationships
About Me
Isuru Jayaratna, MD, is an Assistant Professor of Urology and Urologic Oncology at the Icahn School of Medicine at Mount Sinai. He is experienced in a broad range of urologic procedures, with a particular focus on cancer diagnosis and treatment. Committed to delivering the best possible care to his patients, Dr. Jayaratna offers endoscopic, robotic and conventional open surgical approaches to tumor removal. He has expertise in treating all forms of genitourinary cancer, including bladder, kidney, prostate, testicular, adrenal and penile cancers.

Dr. Jayaratna received his medical degree from Rutgers New Jersey Medical School and completed residency training at the USC Institute of Urology in Los Angeles. During his urologic oncology fellowship at the MD Anderson Cancer Center, he learned how to coordinate with medical and radiation oncologists to integrate clinical biomarkers and advanced imaging to create personalized treatment plans for all patients. When surgery is indicated, his experience at centers of excellence in robotic surgery has given him the skills to perform complex procedures including bladder removal with neobladder reconstruction, nerve sparing prostatectomy, complex partial nephrectomy (sparing normal kidney tissue) and retroperitoneal lymph node dissection for testicular cancer.
Dr. Jayaratna's academic goals lie in bringing the promise of precision medicine in cancer treatment to reality. With his experience in genomic cancer research, he is interested in understanding how gene mutations lead to more aggressive tumors and allow cancer to spread throughout the body. He also participates in running clinical trials that investigate treatments that are targeted for specific patient populations. Dr. Jayaratna is a member of and has presented his work at the national meetings for the American Urologic Association and the Society of Urologic Oncology.
Language