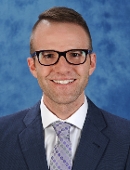 John Tackett, MD, MHS
About Me
John Tackett, MD, MHS, is an Assistant Professor of Pediatric Surgery at The Mount Sinai Hospital.
Dr. Tackett earned his medical degree from the University of Wisconsin School of Medicine and Public Health, graduating with Honors in Research. He completed surgical residency at the Yale-New Haven Hospital where he also completed post-doctoral research fellowships in pediatric surgery and surgical education. During his chief year, he served as the Chief of Scholarship and Professional Development, a role that focused on enriching the educational experience and training culture at Yale. He obtained a Master of Health Science degree from Yale University with his thesis "Serotonin Mediated Enhancement and Protection of the Intestinal Mucosa." Additionally, he completed a Fellowship in Pediatric Surgery at the Nicklaus Children's Hospital in Miami, FL, in 2020.

Dr. Tackett's clinical interests include pectus excavatum, thyroid tumors, and colorectal malformations and pathology along with the full breadth of pediatric surgical care.
Language
Position
ASSISTANT PROFESSOR | Surgery, ASSISTANT PROFESSOR | Pediatrics