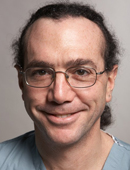 Jeffrey Zahn, MD
About Me
Locations
Publications
About Me
Jeffrey Zahn, MD, is an Obstetric Anesthesiologist and Assistant Professor of Anesthesiology, Perioperative and Pain Medicine at the Icahn School of Medicine at Mount Sinai. In 2014 he published "Choose Happiness! A Guide to Practical Perspectivism and Happy Daily Living," describing Practical Perspectivism, an applied philosophy declaring we each have the capacity to choose, and are responsible for, our own emotional state.
Dr. Zahn began teaching Practical Perspectivism and Wellness in Medicine in 2016 in conjunction with the Accreditation Council of Graduate Medical Education's (ACGME) new curriculum requirements for well-being training of resident physicians. This led to work with the Wellness Champion program in both the Departments of Anesthesiology and Obstetrics, Gynecology and Reproductive Science at Mount Sinai for faculty and trainees alike.
Most recently, Dr. Zahn has been pursuing studies in Mindfulness Based Stress Reduction (MBSR) and is working toward teacher certification in this field. He has become a Mindfulness Educator and Meditation Facilitator and has initiated novel research on "Mindfulness Rounds," a program to bring Mindfulness education and practices to healthcare workers to reduce staff stress and improve patient outcomes.

Language
Position
ASSISTANT CLINICAL PROFESSOR | Obstetrics, Gynecology and Reproductive Science