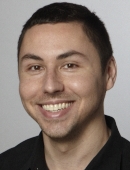 Jerry Chipuk, PhD
Jerry Edward Chipuk (Preferred Name)
About Me
Education & Certifications
Awards
Research
Locations
Publications
About Me
Jerry Edward Chipuk, PhD, is Professor of Oncological Sciences and Dermatology, Associate Director of Basic Science Shared Resources at The Tisch Cancer Institute, and Director for Cell Biology in the Graduate School of Biomedical Sciences at the Icahn School of Medicine at Mount Sinai. He joined Mount Sinai in 2010, following post-doctoral fellowships at St. Jude Children's Research Hospital in Memphis and La Jolla Institute for Allergy and Immunology in San Diego.
Dr. Chipuk studies fundamental mitochondrial biology within the perspective of human disease etiology and treatment. His laboratory has developed multiple model systems, collaborations, and experimental tools to investigate the intersections between mitochondria, cell biology, and disease.
As Associate Director of Basic Science Shared Resources, Dr. Chipuk supports Mouse Genetics and Gene Targeting, Flow Cytometry, Microscopy, and Human Immune Monitoring Center resources within the cancer community, and he develops new core resources for The Tisch Cancer Institute. Dr. Chipuk is a member of both The Tisch Cancer Institute and the Diabetes, Obesity, & Metabolism Institute.
Dr. Chipuk is an associate editor for numerous journals focused on molecular and cellular biology. He also serves on the Board of Directors of the International Cell Death Society and is a Senior Affiliate with bioR𝛘iv, a preprint server for biology operated by the Cold Spring Harbor Laboratory.

Language
Position
PROFESSOR | Oncological Sciences, PROFESSOR | Dermatology
Research Topics
Anti-Tumor Therapy, Apoptosis/Cell Death, Cancer, Cell Biology, Cell Transformation, Drug Resistance, Imaging, Lipid Signaling, Membrane Proteins/Channels, Membranes, Mitochondria, Molecular Biology, Oncogenes, Protein Kinases, Signal Transduction, Tumor Suppressor Genes, Tumorigenesis
Multi-Disciplinary Training Areas
Cancer Biology [CAB]