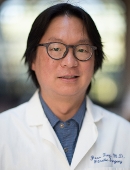 Mount Sinai Doctors
Accepting New Patients
Jess Ting, MD
Plastic and Reconstructive Surgery
Book an Appointment
About Me
Clinical Focus
Video
Education & Certifications
Awards
Research
Locations
Insurance
Publications
Patient Experience Rating
Industry Relationships
About Me
Dr. Jess Ting is an Assistant Professor of Surgery at the Mount Sinai Health System in New York.

A native New Yorker, Dr. Ting studied music at the Juilliard School before switching careers to medicine. He attended the Columbia University College of Physicians and Surgeons and graduated first in his medical school class. This was followed by general surgery training at the Columbia-Presbyterian Medical Center, plastic surgery training at the University of Pittsburgh Medical Center and a hand/microsurgery fellowship at the Hospital for Special Surgery. Dr. Ting led Mount Sinai's first surgical genital reassignment surgery for the transgender population -- a male-to-female operation called vaginoplasty. The procedure was completed in March 2016 with other procedures quickly following, including: metoidioplasty, phalloplasty, facial feminization surgery and chest surgery. Most recently, Dr. Ting pioneered a new approach to vaginoplasty, called the Peritoneum Vaginoplasty, which uses one's own peritoneum lining to create a new vagina with similar properties to a cis-vagina.

With these groundbreaking surgeries, Mount Sinai became the first institution in New York City to offer genital reassignment surgery. To further provide comprehensive care to this community, Mount Sinai established the Center for Transgender Medicine and Surgery (CTMS) - one of the first programs in the United States to offer broad, multispecialty transgender care in one location. To date, Dr. Ting's team has performed more than 2,000 operations, making Mount Sinai not only one of the first institutions in the country to offer transgender surgeries, but now one of the busiest.

Dr. Ting performs research in transgender health and his clinical practice is limited to the surgical care of the transgender/gender non-conforming community, as well as victims of female genital mutilation.
In The News
Dr. Ting's work in the Mount Sinai Center for Transgender Medicine and Surgery has been widely covered in the press. See below for a selection of articles:
Dr. Ting discusses Breast Reconstruction surgery in The Daily News feature The Daily Check Up. View the PDF.
Watch how Mount Sinai experts like Dr. Ting are transforming lives through ground-breaking surgical work in uncharted operations.
Dr. Ting performs a live metoidioplasty at The Mount Sinai Hospital and discusses the surgical expertise of fellow Mount Sinai doctor.
See how Dr. Ting is changing young lives like Emily's, acting as the surgical director of Mount Sinai's Center for Transgender Medicine and Surgery.
Featured in the Gothamist, Variety, and The Hollywood Reporter, Dr. Ting is the central figure in a documentary that highlights the trans experience and how he and his team at Mount Sinai are committed to enhancing lives through ground-breaking surgery and commitment.
Dr. Jess Ting has dedicated his career to gender reassignment. He discusses long waiting lists for surgeries, fears in the community, and more.
Language
Position
ASSISTANT PROFESSOR | Surgery, Plastic Surgery
Hospital Affiliations
Mount Sinai Morningside
Mount Sinai Beth Israel
The Derfner Foundation Ambulatory Surgery Center
Mount Sinai Brooklyn
Mount Sinai Queens
The Mount Sinai Hospital
New York Eye and Ear Infirmary of Mount Sinai
Mount Sinai West