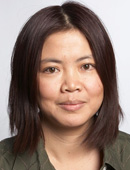 Jia Chen, ScD
About Me
Education & Certifications
Awards
Research
Locations
Publications
About Me
Dr. Jia Chen is Professor in the Departments of Environmental Medicine and Public Health, Pediatrics and Oncological Sciences at the Icahn School of Medicine at Mount Sinai. She is the Director of the Molecular Epidemiology Lab the Senator Frank R. Lautenberg Environmental Health Sciences Laboratory where she leads a team of scientists examining the complex interactions between the environment and the genome/epigenome and how they contribute to human diseases. Dr. Chen is a member of the Mount Sinai Institute for Exposomic Research and the Transdisciplinary Center on Early Environmental Exposures, a P30 Core Center of the National Institute of Environmental Health Sciences.
Her lab uses the latest molecular technologies to interrogate complex interactions between environment and epi/genome in relation to human health. The research strategy of her group is to develop and validate novel epi/genomic biomarkers to elucidate effects of environment and lifestyle (e.g. endocrine disruptors, metals, stress, and diet) on the epi/genome (e.g. transcriptome, methylome, metabolome, microRNA, genomic imprinting, and microbiome) and their ultimate impact on human diseases (e.g. cancer, reproductive abnormalities and neurodevelopmental deficits in children). By incorporating animal and in vitro models with population studies, her group uses transdisciplinary and integrative approach to explore functional variations of the epi/genome that are responsive to environmental insults and indicative of disease risk. As an example, one area of research of her lab is the Developmental Origin and Health and Diseases (DOHaD) where her team interrogates placenta epi/genome to develop placenta-based biomarkers for in utero exposure as well as developmental diseases utilizing resources of several birth cohorts. Dr. Chen has published over 100 research studies in the area of environmental health and epigenetics.
Dr. Chen is also a faculty member in the Graduate School of Biological Sciences at the Icahn School of Medicine at Mount Sinai. She was the recipient of the Senior Visiting Scientist Award and served on the Fellowship Selection Committee for the International Agency for Research on Cancer (IARC/WHO). Dr. Chen serves on the editorial boards of the journals Environmental Epigenetics and the Journal of Cancer Epidemiology, and she has been a member of several research grant peer review committees, including for the National Institute of Environmental Health Sciences, the U.S. Department of Defense and the Dutch Cancer Society.
She received her ScD in the fields of Toxicology and Environmental Engineering from Massachusetts Institute of Technology. She completed her postdoctoral training at Harvard Medical School.
Language
Position
PROFESSOR | Environmental Medicine & Public Health, PROFESSOR | Pediatrics, PROFESSOR | Oncological Sciences, PROFESSOR | Medicine, Hematology and Medical Oncology
Research Topics
Cancer, Cancer Genetics, Epigenetics, Gene Expressions, Genetics, Genomics, Molecular Epidemiology, Tumorigenesis
Multi-Disciplinary Training Areas
Cancer Biology [CAB], Genetics and Genomic Sciences [GGS]