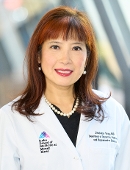 Video Visit Available
Accepting New Patients
Mount Sinai Doctors
Accepting New Patients
Jian Jenny Tang, MD
Obstetrics and Gynecology (OBGYN)
Book an Appointment
About Me
Clinical Focus
Video
Education & Certifications
Locations
Insurance
Publications
Patient Experience Rating
Industry Relationships
About Me
Jian Jenny Tang, MD, is a board certified obstetrician-gynecologist in the Raquel and Jaime Gilinski Department of Obstetrics, Gynecology and Reproductive Science at Mount Sinai. Dr. Tang's practice focuses on general obstetrics and gynecology, with a special interest in fertility, minimally invasive procedures, and holistic health. She has over 20 years of experience in obstetrics and gynecology and has delivered more than 5,000 babies.
Born and raised in Shanghai, China, Dr. Tang moved to the United States in 1988 to pursue higher education. She graduated magna cum laude from the University of Wisconsin with a Bachelor of Science in chemistry and biochemistry. She obtained her Medical Degree from the University of Wisconsin Medical School, graduating at the head of her class, and completed her residency at Albert Einstein College of Medicine. Dr. Tang has received recognition from her medical students and awards for excellence in teaching. She has been voted one of America's top obstetricians and gynecologists yearly since 2006 by the Consumer's Research Council of America.
An advocate and leader in the field of complementary and alternative medicine, she integrates holistic Eastern medicine with modern Western medicine in her practice. Dr. Tang obtained her medical acupuncture license after completing post-graduate fellowship training at SUNY Downstate Health Sciences University. She utilizes acupuncture and acupressure techniques to support her patients during pregnancy, birth, and postpartum care, helping many of her patients to have natural births by employing these complementary tools.
Dr. Tang is passionate about women's health, from family planning to motherhood to menopause. She helps guide women to optimal wellness by promoting balance and harmony in the mind, body, and spirit. She has special interest in hormone replacement therapy during perimenopause and menopause, hypertension during pregnancy, and polycystic ovarian syndrome.
Dr. Tang is actively involved in the Chinese community and Forum for World Education. She brings her unique background and training in both Western medicine and traditional Chinese medicine to serve the needs of the diverse communities in New York City. Dr. Tang is fluent in English, Mandarin, and Shanghainese.
汤健医生拥有美国妇产科医学委员会的认证,执业于西奈山拉奎尔和詹姆·吉林斯基妇产科和生殖科学系。汤医生的执业重点是普通妇产科,尤其致力于生育、微创手术和整全养生。她拥有超过20年的妇产科经验,已接生超过 5,000 名婴儿。
汤医生在中国上海出生长大,1988 年移居美国接受高等教育。她以优异的成绩毕业于威斯康星大学,获得化学和生化理学学士学位。她在威斯康星大学医学院获得医学学位,并以全班第一名的成绩毕业。随后,她在阿尔伯特爱因斯坦医学院完成了住院医师实习。汤医生因其出色的教学而获得医学生的认可和奖励。自 2006 年以来,她每年都被美国消费者研究委员会评为"美国顶级妇产科医生"。
作为补充和代替医疗领域的倡导人和领导者,汤医生在实践中将整全东方医学与现代西方医学相结合。她在纽约州立大学下州健康科学中心完成临床研究医师培训后,获得了医学针灸执照。她通过使用针灸和指压等辅助技术,为患者提供怀孕、分娩和产后护理的支持,还帮助许多患者自然分娩。
不管是计划生育,母性照料,还是更年期,汤医生对女性健康充满着热情。她帮助引导女性促进心形神平衡与协调,从而获得最理想的保健。她对围绝经期和绝经期的激素替代疗法、妊娠期高血压和多囊卵巢综合征特别感兴趣。
汤医生活跃于华人社区和世界教育论坛。她凭借自己在西医和传统中医方面的独特背景和培训,为纽约多元化的社区提供服务。汤医生精通英语、普通话和上海话。

Language
Chinese (Mandarin), English
Position
ASSISTANT PROFESSOR | Obstetrics, Gynecology and Reproductive Science
Hospital Affiliations
Mount Sinai Morningside
The Derfner Foundation Ambulatory Surgery Center
The Mount Sinai Hospital
Mount Sinai West