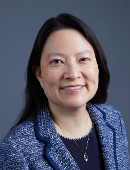 Mount Sinai Doctors
Accepting New Patients
Joan Han, MD
Pediatric Endocrinology
No Patient Experience Ratings
Book an Appointment
About Me
Clinical Focus
Education & Certifications
Locations
Insurance
Industry Relationships
About Me
Joan Han, MD, Professor of Pediatrics and Chief of the Division of Pediatric Endocrinology and Diabetes in the Jack and Lucy Clark Department of Pediatrics at the Icahn School of Medicine at Mount Sinai and Mount Sinai Kravis Children's Hospital.
Dr. Han earned her undergraduate and medical degrees from Harvard University. She completed her residency in pediatrics at Boston Children's Hospital and Boston Medical Center, and pursued further advanced training in a clinical research fellowship at Nemours Children's Clinic in Jacksonville, Florida, and a pediatric endocrinology fellowship at the National Institutes of Health in Bethesda, Maryland. Prior to joining Mount Sinai, she was Associate Professor of Pediatrics and Director of the Pediatric Obesity Program at the University of Tennessee Health Science Center and Le Bonheur Children's Hospital in Memphis, Tennessee. She is board certified in General Pediatrics, Pediatric Endocrinology, and Obesity Medicine and has published broadly in these fields.
Clinical Expertise
Dr. Han's areas of clinical focus are Type 2 diabetes and other disorders associated with obesity and endocrine and metabolic complications associated with brain tumors and brain trauma. Dr. Han also has expertise caring for patients with Alström, Bardet-Biedl, Prader-Willi, ROHHAD, Smith-Magenis, and WAGR/11p deletion syndromes, and patients with leptin pathway disorders, including LEP, LEPR, POMC, PCSK1, MC4R, BDNF, and NTRK2 genetic variants.

Research Expertise
Dr. Han's primary research efforts focus on the neuroendocrine regulation of energy balance and cognitive functioning as well as the genetic, environmental, and behavioral determinants of metabolic health in the general population and in patients with rare genetic disorders associated with obesity and Type 2 diabetes. She is a Pediatric Associate Editor for the International Journal Obesity. She is a member of the Society for Pediatric Research, the Pediatric Endocrine Society, and the Obesity Society, and is a fellow of the American Academy of Pediatrics.
Read more about Joan Han, MD: http://bit.ly/2XHYyXf
Language
Position
PROFESSOR | Pediatrics, Endocrinology and Diabetes
Hospital Affiliations
Mount Sinai Beth Israel
Mount Sinai Morningside
Mount Sinai Queens
The Mount Sinai Hospital
Mount Sinai West