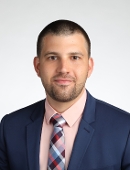 Mount Sinai Doctors
Accepting New Patients
Johnathan Khusid, MD
Urology
Book an Appointment
About Me
Clinical Focus
Education & Certifications
Locations
Insurance
Patient Experience Rating
Industry Relationships
About Me
Johnathan Khusid, MD specializes in the treatment and prevention of urinary stone disease. Utilizing his expertise in the field of endourology, Dr. Khusid offers his patients cutting-edge minimally invasive techniques for the treatment of kidney and bladder stone disease including supine percutaneous nephrolithiasis (PCNL), mini-PCNL, "totally-tubeless" PCNL, percutaneous cystolitholapaxy, "stent-free" ureteroscopy with laser lithotripsy, and extracorporeal shockwave lithotripsy. These procedures are routinely performed as same-day surgeries allowing patients to be discharged to the comforts and familiarity of home on the same day as their procedure. Beyond the surgical treatment of kidney stone disease, Dr. Khusid offers patients metabolic evaluations to understand how and why they are forming stones, and most importantly, to come up with a personalized stone prevention strategy tailored to an individual patient's risk factors and goals of care. In addition to stone disease, Dr. Khusid specializes in the endoscopic treatment of other urologic pathologies including ureteral strictures, ureteropelvic junction obstruction, upper tract urothelial carcinoma, and benign prostatic hyperplasia. Furthermore, Dr. Khusid treats patients with flank pain, hydronephrosis, blood in the urine, difficulty urinating, and slow urinary stream.
A native of Brooklyn, New York, Dr. Khusid attended New York's famed Stuyvesant High School and went on to graduate with honors from the University of Chicago with a degree in Biology. He subsequently received his MD from the State University of New York (SUNY) Downstate Health Sciences University in his hometown of Brooklyn and went on to complete a general surgery internship year and a full urology residency at SUNY Downstate Health Sciences University Hospital. Dr. Khusid's training at SUNY Downstate involved all facets of urology and included pediatric urology training at the world-renowned Children's Hospital of Philadelphia and urologic oncology training at Memorial Sloan Kettering Cancer Center. After residency, Dr. Khusid gained acceptance to the highly sought-after two-year fellowship in Endourology and Complex Stone Disease at the Mount Sinai Kidney Stone Center in New York City.
In fellowship, Dr. Khusid was a tireless researcher and set the program's record for most publications by a fellow. He co-authored several studies on all facets of kidney stone disease including on the impact of diet on stone disease, the impact of modified surgical positioning on patient outcomes, the relationship between metabolic syndrome and stone disease, and even the impact of the COVID-19 pandemic on kidney stone formers. Furthermore, he was awarded Ferdinand C. Valentine Fellowship Award from the New York Academy of Medicine to study the correlation of the kidney stone proteome to kidney tissue protein expression allowing us to better understand the pathogenesis of kidney stone disease. To date, he has co-authored over twenty-five peer-reviewed publications, several of which have been published in top-tier international journals including The Journal of Urology, European Urology, and World Journal of Urology.
Now, as a faculty member in the Department of Urology at the Icahn School of Medicine at Mount Sinai, Dr. Khusid remains actively involved in several ongoing investigations on kidney stone disease and other facets of urology. Currently a member of the American Urological Association and Endourology Society, has presented at multiple national and international conferences. Above all else, throughout his medical career, Dr. Khusid has developed a reputation as a caring and compassionate physician, consistently earning praise from his patients for patience, kindness, and bedside manner.
Language
Position
ASSISTANT PROFESSOR | Urology
Hospital Affiliations
Mount Sinai Beth Israel
Mount Sinai Morningside
Mount Sinai Brooklyn
Mount Sinai Queens
The Mount Sinai Hospital
Mount Sinai West