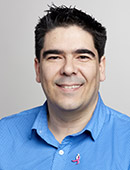 Jose Javier Bravo-Cordero, PhD
About Me
Locations
Publications
About Me
Dr. Bravo-Cordero was trained as a cell biologist and molecular biologist. He earned his bachelor's degree at Autonoma University of Madrid (Spain) and his PhD in Cancer Biology at the Spanish National Cancer Institute (CNIO, Spain) working on mechanisms of tumor cell invasion in 3D collagen matrices by using high-resolution imaging.
During his postdoctoral training, he extended his expertise in breast cancer metastasis by applying unique imaging technologies such as FRET microscopy and intravital imaging at the Albert Einstein College of Medicine in New York. He studied the spatiotemporal activation of RhoGTPases during invasion by using a series of imaging tools (FRET biosensors) to visualize GTPase activation in real time in living cells.
Dr. Bravo-Cordero's expertise ranges from microscopy (FRET microscopy, in vivo imaging) to cell biology and mouse models. His laboratory is investigating the mechanisms of tumor cell dissemination and metastasis of breast cancer by applying high-resolution imaging techniques.
In September 2015, he joined the Division of Hematology and Oncology, the Tisch Cancer Institute and the Microscopy CORE at Icahn School of Medicine at Mount Sinai as an assistant professor.
Visit the Bravo-Cordero Laboratory here: https://labs.icahn.mssm.edu/bravo-cordero-lab/
Dr. Bravo-Cordero is on Twitter at @BravoCorderoLab
Language
Position
ASSOCIATE PROFESSOR | Medicine, Hematology and Medical Oncology
Research Topics
Cancer, Cell Adhesion, Cell Biology, Cell Motility, Chemokines, Chemotaxis, Cytoskeleton, Extracellular Matrix, Image Analysis, Imaging, Macrophage, Metastasis, Migration, Molecular Biology, Two-Photon Imaging
Multi-Disciplinary Training Areas
Cancer Biology [CAB], Development Regeneration and Stem Cells [DRS], Genetics and Genomic Sciences [GGS]