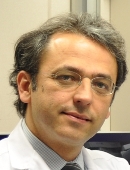 Josep Llovet, MD
About Me
Video
Education & Certifications
Awards
Research
Locations
Publications
About Me
Josep M. Llovet is Founder and Director of the Liver Cancer Program and Full Professor of Medicine at the Mount Sinai School of Medicine, New York University (USA), and Professor of Research-ICREA in the Liver Unit, IDIBAPS-Hospital Clínic, University of Barcelona. Professor Llovet obtained his degree in Medicine and Surgery from the University of Barcelona in 1986 and his PhD from the Autonomous University of Barcelona in 1995.
Professor Llovet has been President, Secretary and Founder of the International Liver Cancer Association (ILCA) and Chairman of the European Clinical Practice Guidelines of management of liver cancer (EASL-EORTC). He has published more than 240 articles in peer-reviewed journals such as New England Journal of Medicine, Nature, Nature Genetics, Lancet, Lancet Oncology, Cancer Cell, Nature Rev Dis Primers, Nature Biotech, Nature Com, Nature Rev Clin Oncol, JCO, J Clin Invest, JNCI and Gastroenterology (total citations 43.560, total impact factor 2660; h index 85), more than 50 chapters of books, and has delivered more than 500 lectures. He is Senior Editor of Clinical Cancer Research. Of note, he has been recognized as a) Top-1% cited researcher in Thomson Reuters, 2014-2016, and b) #1 Most cited investigator in Spain, period 1997-2011.
He has devoted the past 20 years of his career studying the pathogenesis and treatment of liver cancer, and has received the AACR-Landon International Award (2009) for leading the International HCC Genomic Consortium, the International Hans Popper award (2012), Premi Josep Trueta (2013) and was nominated as Fellow of the American Association for the Study of Liver Diseases (FAASLD-2015). He has received competitive funding for 62 projects (total >€14M) including the European Commission (FP7- HEALTH, HEPTROMIC, 2010; Horizon 2020: HEP-CAR 2016), DOD 2016 and the US National Institute of Health (R01, 2008; P01-NCI designation 2015), the Spanish National Health Institute, I+D Program and from the Asociación Española Contra el Cancer. He is member of leadership committees in IDIBAPS-Hosp Clínic (Executive Committee) and in Mount Sinai (Executive Management Committee, Tisch Cancer Institute).
Language
Position
PROFESSOR | Medicine, Liver Diseases
Research Topics
Cancer, Liver