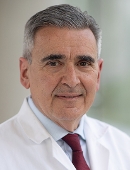 Video Visit Available
Accepting New Patients
Mount Sinai Doctors
Accepting New Patients
Joseph A. Sparano, MD
Hematology-Oncology
No Patient Experience Ratings
Book an Appointment
About Me
Clinical Focus
Education & Certifications
Locations
Insurance
Industry Relationships
About Me
Joseph A. Sparano, MD, FACP, an internationally-recognized expert in the management of breast cancer and HIV-associated malignancies, is Chief of the Division of Hematology and Medical Oncology for the Mount Sinai Health System and Deputy Director of The Tisch Cancer Institute (TCI). He holds the Ezra M. Greenspan MD Professorship in Clinical Cancer Therapeutics.
Dr. Sparano joined Mount Sinai in 2021 following a distinguished 33-year career at the Albert Einstein College of Medicine and Montefiore Medical Center, where he was Professor of Medicine and Obstetrics, Gynecology & Women's Health, Associate Chairman for Clinical Research in the Department of Oncology, and Associate Director for Clinical Research at the Albert Einstein Cancer Center.
Dr. Sparano led a breakthrough clinical trial in breast cancer research, the Trial Assigning Individualized Options for Treatment (Rx), known as TAILORx—the first and largest National Cancer Institute (NCI) precision medicine trial. It integrated the 21-gene expression assay (Recurrence Score [RS]) into clinical decision making for adjuvant therapy of early stage ER-positive, HER2 negative breast cancer. The trial led to changes in treatment guidelines from both the American Society of Clinical Oncology and the National Comprehensive Cancer Network. TAILORx results were published in the New England Journal of Medicine in 2015, 2018, and 2019. Dr. Sparano also led an effort to develop and validate a new tool integrating clinical and genomic information to guide adjuvant therapy for breast cancer, called RS Clin, which became freely available for widespread clinical use after publication in the Journal of Clinical Oncology in 2021. Evidence generated from another trial that he led which evaluated the role of taxane therapy in early breast cancer, published in the New England Journal of Medicine in 2008, has also had an important and enduring impact on standard clinical practice guidelines.
Dr. Sparano has conducted impactful studies aimed at improving the outcomes of HIV‐positive patients with cancer, including research on novel approaches for treating non‐Hodgkin lymphoma and anal cancer in individuals with HIV. He has also focused his research on improving racial disparities in cancer care and on cancer metastasis. Dr. Sparano's research over the years has been funded by the NCI as well as the Breast Cancer Research Foundation, Susan G. Komen Foundation, and V Foundation.
Dr. Sparano is Chair and Principal Investigator of the AIDS Malignancy Consortium, a network of clinical trial sites in the U.S., Africa, and Latin America. He serves as Deputy Chair of the Eastern Cooperative Oncology Group (ECOG)-American College of Radiology Imaging Network (ACRIN) Cancer Research Group, and is a member of the Board of Managers of the PreECOG Research Foundation and the Early Breast Cancer Trialists' Collaborative Group (EBCTCG) Steering Committee.
Dr. Sparano is a recipient of some of the most prestigious awards in the field of medical oncology, including the ECOG Young Investigator Award, the Charles Moertel Award and Lecture by the Alliance for Cancer Clinical Trials, the American Association for Cancer Research William L. McGuire Award and Lecture, and the American Society of Clinical Oncology Gianni Bonadonna Award and Lecture.
Dr. Sparano is on Twitter at @jsparano
Language
Position
PROFESSOR | Medicine, Hematology and Medical Oncology
Hospital Affiliations
Mount Sinai Beth Israel
Mount Sinai Morningside
Mount Sinai Brooklyn
Mount Sinai Queens
The Mount Sinai Hospital
Mount Sinai West