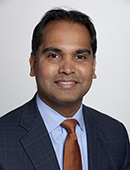 Mount Sinai Doctors
Joseph P Mathew, MD
Critical Care, Pulmonary Medicine (Lung)
No Patient Experience Ratings
Book an Appointment
About Me
Education & Certifications
Awards
Research
Locations
Insurance
Industry Relationships
About Me
Joseph Mathew, MD, FACP, FCCP, is an attending physician in the Division of Pulmonary, Critical Care, and Sleep Medicine at Mount Sinai West and Mount Sinai Morningside and is Director of the Intensive Care Unit at Mount Sinai West. He is former Director of the Center for Advanced Medical Simulation (CAMS) at Mount Sinai West and continues to serve as Associate Director. He also serves as Co-Chair of the Pharmacy and Therapeutics Committee and First Secretary of the Medical Board.
After completing his BA in Economics at New York University, Dr. Mathew obtained his MD from St. George's University School of Medicine. He completed his Internal Medicine residency at St. Luke's-Roosevelt Hospital and stayed on as a Chief Medical Resident, overseeing a program of over 160 residents and teaching medical students from Columbia University College of Physicians and Surgeons. This was formative year, which set the foundation for a career in teaching, simulation, research and administration. He subsequently completed a fellowship in Pulmonary Diseases & Critical Care Medicine at Beth Israel Medical Center/Albert Einstein College of Medicine, where he developed his expertise in areas such as advanced bronchoscopy, airway management, and critical care ultrasonography.
Dr. Mathew was recruited to Winthrop-University Hospital, a clinical campus for Stony Brook University School of Medicine. He was the founding Medical Director of a 4,500 sq. ft. state-of-the-art Simulation Center. He also chaired quality improvement committees that helped reduce central line and urinary catheter related infections. As Medical Director of Respiratory Care, he implemented various initiatives designed to improve patient care and reduce waste. He led EMR implementation for the Winthrop Pulmonary Associates Faculty practice. He was an integral part of the Thoracic Tumor Board, providing advanced bronchoscopic services such as Endobronchial Ultrasound (EBUS) and helped implement Electromagnetic Navigational Bronchoscopy at Winthrop. He was awarded the Teaching Attending of the Year award in 2012.
At Mount Sinai West and Morningside, Dr. Mathew is involved in many initiatives, which have improved quality and safety within the Mount Sinai Health System. He served as the Director for the Center for Advanced Medical Simulation (CAMS) from 2017 to 2020, directing simulation-based educational initiatives that have improved the confidence and competence of a wide range of clinicians and decreasing complications of high-risk procedures such as central line placement and tracheal intubation. He was co-founder of the highly successful Tristate Simulation Symposium, an annual gathering of simulation leaders from the region. As co-chair of Pharmacy and Therapeutics, he has overseen medication management and cost-containment for both Mount Sinai West and Morningside. He led Critical Care Operations for Mount Sinai West during the COVID-19 pandemic, overseeing expansion of ICUs and Intermediate Care Units and working with system leads to help develop COVID-19 treatment guidelines.
Dr. Mathew is an active member of the American Thoracic Society, American College of Physicians, American College of Chest Physicians (ACCP) and the Society for Simulation in Healthcare. He has served as course faculty for regional and national critical care ultrasound courses and has been teaching at the ACCP Critical Care Ultrasonography courses since 2009. He has published several manuscripts and book chapters on topics such as critical care ultrasonography, airway management, critical care outcomes and healthcare simulation. He serves as ad hoc reviewer for multiple prestigious journals including Annals of Internal Medicine, CHEST, Journal of Intensive Care Medicine and American Journal of Respiratory and Critical Care Medicine. He has won multiple awards including ACCP Young Investigator Award, Attending Physician of the Year, the St. Luke's-Roosevelt Distinguished Alumni, United Hospital Fund Excellence in Healthcare and the ACCP Distinguished Chest Educator award.
Language
Position
PROFESSOR | Medicine, Pulmonary, Critical Care and Sleep Medicine
Hospital Affiliations
Mount Sinai Morningside
The Mount Sinai Hospital
Mount Sinai West
Download the CV