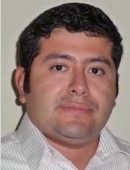 Julio Landero, PhD
About Me
Julio A. Landero, PhD, is Associate Professor in the Department of Environmental Medicine and Public Health at the Icahn School of Medicine at Mount Sinai. He is head of the Trace Metal group at the Senator Frank R. Lautenberg Environmental Health Sciences Laboratory, an Institute for Exposomic Research laboratory.
Prior to joining Mount Sinai, Dr. Landero was Assistant Professor at the University of Cincinnati and the director of the Agilent Metallomics Center and Assistant Professor at the Department of Pharmacology and Systems Physiology at the University of Cincinnati.
Dr. Landero is a bio-analytical chemist, specialized in metallomics, an emerging field dedicated to the integral study of metals in biological systems. He has extensive experience in quantifying the total content and the different chemical species of metals, metalloids and non-metals in biological samples. The instrument of choice for these analysis is Inductively Coupled Plasma Mass Spectrometry (ICP-MS). The multi-element capability of this technology allows the precise analysis of over twenty elements simultaneously in small samples. The implementation of custom-made methods to study basic aspects of metal transport in cells, and the roles of metallo-proteins in the immune cells response and cancer metabolic re-programing has been the focus of Dr. Landero research efforts. As a result, the analysis of micro-sized samples for both total metal content, and metal-containing molecular speciation has been developed and applied to different bio-medical research projects.
Dr. Landero currently serves as Co-Investigator responsible for directing the trace metal analysis of biological samples and overseeing implementation of QAQC protocols for following ongoing grants.
Language
Position
ASSOCIATE PROFESSOR | Environmental Medicine & Public Health