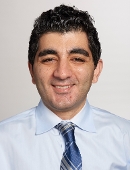 Kambiz Nael, MD
About Me
Awards
Research
Locations
Publications
About Me
Kambiz Nael, MD is an Assistant Professor of Radiology in the Division of Neuroradiology at The Icahn School of Medicine at Mount Sinai. He is a board-certified Radiologist with specialty certification in Neuroradiology.

Dr. Nael is a graduate of the Shiraz Medical School. He completed a surgical internship at the Huntington Memorial Hospital in Pasadena, California. He did Radiology Residency at David Geffen School of Medicine at UCLA in Los Angeles followed by a Fellowship in Diagnostic Neuroradiology at UCLA. He then worked 3 years in University of Arizona as an Assistant Professor of Medical imaging, serving as the Director of Neuroradiology MRI and stroke imaging, before joining Mount Sinai in July 2015.

Dr. Nael's clinical and research interests include advanced imaging, quantitative neuroimaging, and multiparametric imaging approach in diagnosis of variety of cerebrovascular disorders and brain and spinal neoplasms.

Dr. Nael has contributed to numerous publications and book chapters. He has given talks and presented research at many national and international meetings. He is a senior member of the American Society of Neuroradiology and also holds membership in the Radiologic Society of North America, International Society of Magnetic Resonance Imaging in Medicine, Western Neuroradiology Society, American Society of Head and Neck Radiology (ASHNR), and American Heart Association, Stroke Council (AHA/ASA).

Language
Position
ASSOCIATE CLINICAL PROFESSOR | Diagnostic, Molecular and Interventional Radiology
Multi-Disciplinary Training Areas
Development Regeneration and Stem Cells [DRS], Neuroscience [NEU]