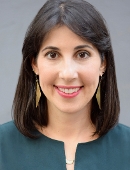 Mount Sinai Doctors
Accepting New Patients
Kate Hirschmann-Levy, MD
Obstetrics and Gynecology (OBGYN)
Book an Appointment
About Me
Clinical Focus
Video
Education & Certifications
Locations
Insurance
Patient Experience Rating
Industry Relationships
About Me
Kate Hirschmann-Levy, MD, is a board certified obstetrician-gynecologist in the Department of Obstetrics, Gynecology and Reproductive Science at Mount Sinai West and Mount Sinai Morningside.
Dr. Hirschmann-Levy is committed to patient-centered care. Her practice offers a wide range of services, with a focus on general obstetrics and gynecology. Dr. Hirschmann-Levy has special interests in contraception counseling and family planning, obstetrical care, treatment of abnormal uterine bleeding, gynecologic surgery, including minimally invasive surgery, preventative education, and advocacy for women's health. Dr. Hirschmann-Levy believes that an excellent physician needs not only technical skill and knowledge, but also great respect for humanity and an awareness of the deep emotional element inherent in health care work.

Prior to joining Mount Sinai, Dr. Hirschmann-Levy was an assistant professor of obstetrics and gynecology at Columbia University Medical Center, an assistant attending obstetrician-gynecologist at New York-Presbyterian Hospital, and at Yale University School of Medicine. Previously, she was a senior health educator at Mount Sinai's Adolescent Health Center.
Dr. Hirschmann-Levy has long had a passion for eliminating disparities in health care. She earned her medical degree from the University of California, San Francisco School of Medicine, where she was a recipient of The Albert Schweitzer Fellowship, a program focused on addressing the health needs of underserved communities. While there, she was honored with the Chancellor Award for Public Service for her commitment to women's health and specifically for founding and leading the Women's Jail Health Project—health care for incarcerated women at San Francisco's county jail. Dr. Hirschmann-Levy also has volunteered her time working with children at the Subcentro de Salud El Blanqueado, a clinic in Quito, Ecuador, as well as caring for patients at CEMOPLAF, a reproductive health clinic serving low-income Ecuadorians. As a Fullbright Scholar working with the organization Educación Popular En Salud in Santiago, Chile, she implemented a reproductive health advocacy program for adolescents, developing a reproductive health course that was integrated into the curricula of local schools, leading health workshops for adolescents, and connecting youths to medical clinics for reproductive health care.
Dr. Hirschmann-Levy completed her residency in obstetrics and gynecology at the Icahn School of Medicine at Mount Sinai in Mount Sinai West's Department of Obstetrics and Gynecology, where she was elected Academic Administrative Chief. During her residency, she also served on the Quality Improvement Committee and the Resident Interview and Selection Committee. Dr. Hirschmann-Levy is a Fellow of the American College of Obstetricians and Gynecologists.
Language
Hospital Affiliations
Mount Sinai Morningside
Mount Sinai Beth Israel
Mount Sinai Brooklyn
Mount Sinai Queens
The Mount Sinai Hospital
Mount Sinai West