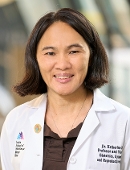 Mount Sinai Doctors
Katherine T Chen, MD, MPH
Obstetrics and Gynecology (OBGYN)
No Patient Experience Ratings
About Me
Clinical Focus
Education & Certifications
Insurance
Publications
Industry Relationships
About Me
Katherine Chen is Professor and System Vice-Chair of Education in the Raquel and Jaime Gilinski Department of Obstetrics, Gynecology and Reproductive Science at Icahn School of Medicine at Mount Sinai. She is also a Professor in the Department of Medical Education. She is responsible for all the Ob-Gyn related academic programs in undergraduate and graduate medical education, which involve approximately 140 medical students, 80 residents, and 20 fellows every year.
Dr. Chen has a B.S. and B.A. from Stanford University, an M.D. from Harvard Medical School and an M.P.H. from Columbia University. She trained at the Harvard Medical School's Combined Program in Ob-Gyn at the Brigham and Women's and Massachusetts General Hospitals.
Dr. Chen was an ACOG Fellow in Women's Health Policy and also an NIH Scholar in the Women's Reproductive Health Research Career Development Program. She is the recipient of the "Outstanding Harvard Medical School Teacher of Ob/Gyn" from 1995 – 1998 and the ACOG / CREOG National Faculty Award in 2007 while at Columbia University. She is also the recipient of the Outstanding Mount Sinai School of Medicine Clinical Attending Faculty Award in 2009; Alpha Omega Alpha Honor Society in 2010; APGO National Excellence in Teaching Award in 2011; the Institute for Medical Education Excellence in Teaching Award in 2012; and the Harvard Macy Institute Program for Educators Dean's Award in 2012. Dr. Chen was elected by the ISMMS Institute of Medical Education as a Fellow in 2010 and Master Educator in 2020 and awarded the Dr. Arthur H. Aufses, Jr. Career Achievement Award in Medical Education in 2022.
Dr. Chen was selected in 2022 to the Association of Professors of Gynecology and Obstetrics (APGO)'s Undergraduate Medical Education Committee, one of APGO's most prolific committees. This group of 12 leaders is responsible for improving undergraduate medical education in obstetrics and gynecology across the United States and Canada.
Dr. Chen has clinical expertise and research endeavors in infectious diseases in obstetrics and gynecology and is a writer for UpToDate. She currently is an expert in Ob-Gyn mobile health technology, specifically applications, and has led teams of researchers across institutions to identify and evaluate apps for health care providers and patients to use. She is a contributing editor for OBG Management with a quarterly App Review Series.
Language
Position
PROFESSOR | Obstetrics, Gynecology and Reproductive Science, PROFESSOR | Medical Education
Hospital Affiliations