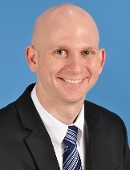 Mount Sinai Doctors
Accepting New Patients
Kevin Elmore, MD
Neurology
No Patient Experience Ratings
Book an Appointment
About Me
Clinical Focus
Education & Certifications
Locations
Insurance
Publications
Industry Relationships
About Me
Kevin Elmore, MD has broad experience in general neurology, managing neuro-oncologic diseases, and the complications of cancer including directing patient care in both the outpatient clinic and as part of the inpatient consultation service. Our team of clinicians at the Ruttenberg Treatment Center are dedicated to diagnosing and providing compassionate care to patients suffering from a variety of brain and spinal cord tumors including glioma and glioblastoma, CNS lymphoma, meningioma, and metastases. In addition to working closely with our colleagues in neurosurgery and radiation oncology, depending on the specific disease, our neuro-oncology practice administers therapies as oral drugs, infusions, and intrathecal injections. Dr. Elmore is actively engaged in the education of residents and medical students rotating through our institution. He was commended for clinical work during medical school as the recipient of the David Mortimer Olkon Scholarship. At the University of Pittsburgh Medical Center, he developed leadership skills serving as chief resident and received awards for both clinical and teaching excellence. He completed his fellowship training in neuro-oncology at Memorial Sloan Kettering and currently practices at The Mount Sinai Hospital as an Assistant Professor.
At this time, there are limited treatments approved for the management of malignant gliomas. Dr. Elmore's research has focused on improving the understanding of different molecular subtypes of glioma and how their unique properties might be exploited in formulating treatments. Primarily, his research has sought to understand mechanisms of DNA repair in glioma and treatment strategies relying on these pathways. This led to an investigation of patients with inherited deficiencies in mismatch repair including their tumor characteristics, outcomes, and response to immunotherapy. Additional work has focused on the characterization of rare neuro-oncologic diseases and novel drug therapy for patients with brain metastases. This work has led to both original research and reviews.
As a clinician, Dr. Elmore works to ensure that patients are receiving the most advanced care for their neuro-oncologic diseases and are educated about their disease, prognosis, and potential treatments. Writing and reviewing clinical trial proposals has helped to provide experimental treatment options to patients with progressive neurologic malignancies, thereby expanding patient access to novel therapies. His goal is to continue working to further our understanding of the mechanisms of CNS tumors, use this knowledge to advance the care of patients with neuro-oncologic diseases, and expand therapies in this group of patients.
Dr. Elmore is registered to provide telehealth services in Florida and New Jersey.
Language
Position
ASSISTANT PROFESSOR | Neurology, ASSISTANT PROFESSOR | Medicine, Hematology and Medical Oncology, ASSISTANT PROFESSOR | Neurosurgery
Hospital Affiliations
Mount Sinai Beth Israel
Mount Sinai Morningside
Mount Sinai Brooklyn
Mount Sinai Queens
The Mount Sinai Hospital
Mount Sinai West