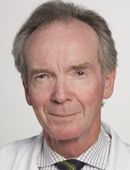 Kristjan T Ragnarsson, MD
About Me
Clinical Focus
Industry Relationships
About Me
Kristjan T. Ragnarsson, M.D.
Dr. Ragnarsson graduated from the University of Iceland School of Medicine in 1969 and completed a residency in Physical Medicine and Rehabilitation and a clinical research fellowship in Spinal Cord Injury medicine at the New York University Medical Center, Rusk Institute of Rehabilitation Medicine in 1975. He was appointed to the faculty of the Department of Rehabilitation Medicine of NYU School of Medicine in 1976. He was involved with the New York SCI Model System of Care from its inception in 1973 and served as its Director from 1981 to 1986, when he was appointed Professor and Chairman of the Department of Rehabilitation Medicine at Mount Sinai School of Medicine, a position that he has held since.
At Mount Sinai, Dr. Ragnarsson has been responsible for the growth of the Department of Rehabilitation Medicine's clinical and academic programs while serving Mount Sinai in various leadership roles, e.g., President of The Mount Sinai Hospital Medical Board (1995-1997), and Chair, Board of Governors of the Mount Sinai School of Medicine Faculty Practice Associates (1997-2003). His contributions to other organizations have included: President of the American Spinal Injury Association (1993-1995), Board Member, American Paraplegia Society (1997-1999), member of the US Department of Veterans' Affairs Scientific Merit Review Board (1984-2000), Chairman of the NIH Consensus Conference on "Rehabilitation of Persons with Traumatic Brain Injury" (1998), President, Association of Academic Physiatrists (2009-2011), Vice-President, Foundation for PM&R (2009-2011), Chairman, Marketing Task Force/Committee AAPMR (1995-2000).
Dr. Ragnarsson has received numerous honors and awards for his work. He has consistently been named among "The Best Doctors in New York" and "America 's Top Doctors". His expertise includes evaluation and management of persons with physical disability due to SCI, spine disorders, brain injury, limb amputations and pain. He has been the projector director for the NIDRR funded Mount Sinai SCI Model System of Care since 1990. He has served on the editorial boards of the Journal for Spinal Cord Medicine (1989-Present), Topics in Spinal Cord Medicine (1995-2005), Journal of Rehabilitation Research and Development and been a peer reviewer for 16 different professional journals. He has conducted various research projects and been involved in the development and testing of high technology devices for persons with disability. He has published more than 160 articles and book chapters and made numerous presentations in his field of expertise locally, nationally and internationally.
In The News
Dr. Ragnarsson discusses treatments for spinal cord injuries in The Daily News feature The Daily Check Up. View the PDF.
Language