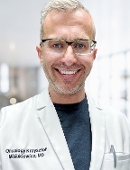 Video Visit Available
Accepting New Patients
Mount Sinai Doctors
Accepting New Patients
Krzysztof J Misiukiewicz, MD
Cancer (Oncology)
No Patient Experience Ratings
Book an Appointment
About Me
Clinical Focus
Education & Certifications
Locations
Insurance
Publications
Industry Relationships
About Me
Krzysztof Misiukiewicz, MD, is Associate Professor of Medicine (Hematology and Medical Oncology) at the Icahn School of Medicine at Mount Sinai. A member of the faculty since 2009, Dr. Misiukiewicz has clinical expertise in the medical management of head and neck and thyroid cancers. He is Clinical Director of Research in Head and Neck, Clinical Director of the Center for Personalized Cancer Therapeutics (CPCT) at The Tisch Cancer Institute, and Chairman of the Oncology Pharmacy & Therapeutics Committee. Dr. Misiukiewicz is Principal Investigator of the key personalized clinical trials offered at CPCT; he holds a Master's degree in clinical research.
Dr. Misiukiewicz investigates new ways to combine traditional treatments, such as chemotherapy and radiotherapy, with the latest targeted agents and immunotherapy in order to improve treatment results and decrease side effects in patients with head and neck and thyroid cancers. He is also working on identifying drugs that target the genetic changes of an individual's tumor with an understanding of tumor genetic complexity.
Using a personalized medicine approach, Dr. Misiukiewicz offers patients a customized care plan tailored to their specific cancer and access to innovative treatments.
Language
Position
ASSOCIATE PROFESSOR | Medicine, Hematology and Medical Oncology, ASSISTANT PROFESSOR | Otolaryngology
Hospital Affiliations
Research Topics
Larynx, Thyroid