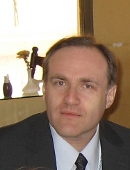 Leo Sher, MD
About Me
Leo Sher, M.D. is an academic psychiatrist with a background in internal medicine. He is Professor of Psychiatry at the Icahn School of Medicine at Mount Sinai and Director of Inpatient Psychiatry at the James J. Peters Veterans' Administration Medical Center. Dr. Sher is a Diplomate of the American Board of Psychiatry and Neurology.
Dr. Sher has published about 700 scientific works including 96 original research reports and 17 edited books. He is on the Editorial Board of several scientific journals and a reviewer for many journals.
Dr. Sher has conducted extensive and groundbreaking research on the psychobiology and treatment of psychiatric disorders and suicidal behavior. He has contributed a lot to research in the fields of psychoneuroendocrinology and suicidology. Dr. Sher was the first researcher in North America who introduced the use of the combined dexamethasone suppression/corticotropin-releasing hormone stimulation test for psychiatric purposes. Dr. Sher has proposed the concept of posttraumatic mood disorder that was met with significant interest by experts in the field. He has also proposed a model of suicidal behavior in traumatized war veterans.
Dr. Sher has been teaching and supervising psychiatric residents and medical students for many years. Dr. Sher gave Grand Rounds and other educational lectures in many medical schools and hospitals.
Dr. Sher is the Chair of the World Federation of Societies of Biological Psychiatry (WFSBP) Task Force on Men's Mental Health, a Fellow of the International College of Neuropsychopharmacology (CINP), an Executive Member of the World Psychiatric Association (WPA) Section on Dual Disorders/Pathology, a Member of the International Academy of Suicide Research (IASR), and a Corresponding Member of the European College of Neuropsychopharmacology (ECNP). Dr. Sher was formerly a Member of the WFSBP Task Force, "Mental Disorders and General Practice." He is the recipient of several awards and grants including the International Award for Excellence in Published Clinical Research in the Journal of Clinical Endocrinology and Metabolism.
The Expertscape medical professionals rating company sent the following tweet on September 10, 2019, at 10:50 am EDT: "September 10 is World Suicide Prevention Day. So congratulations to Dr. Leo Sher of Mount Sinai New York — Recognized as an Expertscape World Expert in Suicide. http://www.expertscape.com/ex/suicide." Expertscape's algorithms placed Dr. Sher in the top 0.1% of scholars writing about Suicide over the past 10 years, a level Expertscape labels as "World Expert."
Dr. Sher has excellent leadership skills and is a very dedicated physician, scientist, and educator.
Language
Position