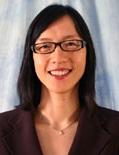 Louise A Chuu, MD
About Me
Louise Chuu, MD, is a board-certified obstetrician-gynecologist and an Assistant Professor in the Department of Obstetrics, Gynecology and Reproductive Science at the Icahn School of Medicine at Mount Sinai. Dr. Chuu has been in practice on the faculty of Mount Sinai West and Mount Sinai Morningside since 2007. She is interested in all aspects of the specialty.
Dr. Chuu earned her BA degree in art history from Cornell University in Ithaca. Her studies included a semester in Florence, Italy, at the distinguished Instituto de Lorenzo de Medici. She then pursued two years of premedical studies and laboratory research before entering medical school at the State University of New York Health Science Center. Dr. Chuu received residency training in obstetrics and gynecology at Mount Sinai St. Luke's Roosevelt; while there, she contributed to research regarding manipulation of fetal position to allow vaginal delivery and avoid Cesarean section.
Dr. Chuu speaks fluent Mandarin Chinese in addition to English.
Language
Position
ASSISTANT PROFESSOR | Obstetrics, Gynecology and Reproductive Science