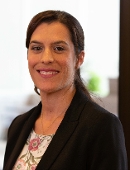 Maayan Yitshak-Sade, PhD
About Me
Education & Certifications
Awards
Publications
About Me
Maayan Yitshak-Sade, PhD, is an environmental epidemiologist and serves as Assistant Professor in the Department of Environmental Medicine and Public Health at the Icahn School of Medicine at Mount Sinai. She is also a member of the School's Institute for Exposomic Research and Transdisciplinary Center on Early Environmental Exposures. Her research interests are cardiovascular health, chronic debilitating brain disorders, joint effects of urban and built environment exposures, and modification of these effects by individual and neighborhood socioeconomic factors. She applies regression and causal modeling methods to investigate the links between multiple environmental exposures and cardiovascular diseases and risk factors.
Dr. Yitshak-Sade received her Bachelor's degree in Nursing (2006), her Master's in Public Health (2013), and her PhD in epidemiology (2016) from Ben-Gurion University, Beer-Sheva, Israel—an exciting location for epidemiological research due to the unique geography, climate, and social structures in the Negev Desert of southern Israel. Although the focus of her research was the link between air pollution exposure and cardiovascular disease, Dr. Yitshak-Sade also researched the health effects of exposure to dust storms, air pollution, and heat among children in a semi-arid environment.
Since 2016 Dr. Yitshak-Sade has completed a postdoctoral fellowship in Environmental Health at the Harvard T.H. Chan School of Public Health, before joining Mount Sinai in August 2020. Dr. Yitshak-Sade is a past recipient of the Harvard Data Science initiative award for her work on the causal air pollution effect on hospital admissions in the U.S. using a matching approach for big data.
Language
Position
ASSOCIATE PROFESSOR | Environmental Medicine & Public Health