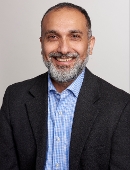 Manish Arora, PhD
About Me
Video
Awards
Locations
Publications
About Me
Manish Arora, BDS, MPH, PhD, an environmental epidemiologist and exposure biologist, is the Edith J. Baerwald Professor and Vice Chairman of the Department of Environmental Medicine and Public Health at the Icahn School of Medicine at Mount Sinai. A founding member of the Mount Sinai Institute for Exposomic Research, Dr. Arora serves as director of its environmental exposure and precision environmental medicine laboratories, leading a team of over 50 scientists who are advancing research in a vast array of diseases that are national health priorities, including autism, Lou Gehrig's, cancers, and gastrointestinal disorders.

Dr. Arora's research focuses on the effects of prenatal and early life chemical exposures on life-long health trajectories. In 2020, he and colleagues proposed the "Biodynamic Interface Theory," a novel theoretical framework that explains how the environment interacts with physiology in a dynamic way over time. This theory has the potential to shift the paradigm of environmental health research from a static to a more nuanced dynamic view of health throughout the life course. In Dr. Arora's own research, environmental dynamic principles paved the way for his groundbreaking work on the tooth and hair biomarker to reconstruct the timing of exposure to various harmful chemicals and essential nutrients during pregnancy, and the biological response to those environmental factors. In November 2021, Mount Sinai Innovation Partners announced that the exposome sequencing technology platform developed by Dr. Arora and his team was licensed to a new spin-off company, for which he serves as founder and CSO. Dr. Arora led this technology to an FDA Breakthrough Designation for an autism biomarker that can be applied at birth.

Dr. Arora is currently the Principal Investigator or Co-Investigator of eight research projects funded by the National Institute of Environmental Health Sciences (NIEHS), including the Human Health Exposure Analysis Resource (HHEAR) Untargeted Center grant, and the R35/RIVER grant. He has received multiple honors throughout his career, including the Presidential Early Career Award for Scientists and Engineers (PECASE) awarded by the office of President Barack Obama in 2015 and the National Institutes of Health Director's New Innovator Award in 2014.
Dr. Arora is the author of the book Environmental Biodynamics: A New Science of How the Environment Interacts with Human Health, published by Oxford University Press in December 2021.
Language
Position
PROFESSOR | Environmental Medicine & Public Health, PROFESSOR | Dentistry
Multi-Disciplinary Training Areas
Disease Mechanisms and Therapeutics (DMT)