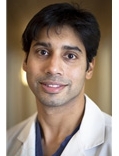 Accepting New Patients
Manoj Kantu, MD
Ear, Nose, Throat (ENT) / Otolaryngology
No Patient Experience Ratings
Book an Appointment
About Me
Education & Certifications
Locations
Insurance
Industry Relationships
About Me
Dr. Manoj Kantu is a board-certified otolaryngologist who specializes in all aspects of adult and pediatric ears, nose, and throat disorders. His expertise and specialization include obstructive sleep apnea, chronic sinusitis, allergic rhinitis & reactive airways disease, head & neck disorders, hearing loss, tinnitus, vertigo, nasal obstruction and nasofacial deformity.

Dr. Manoj Kantu gained acceptance out of high school into Brown University's top-ranked Combined Undergraduate-Medical Education Program known as the PLME. While on this accelerated track, he was inducted into the esteemed medical honor society Alpha Omega Alpha. He went on to graduate near the top of his class with Honors before advancing into and serving as chief resident in Otolaryngology/Head & Neck Surgery Residency Program at the State University of New York (SUNY) at Brooklyn.

Dr. Manoj Kantu authored several textbook chapters as well as various manuscripts and publications in the field of otolaryngology/head & neck surgery. He has presented at multiple national meetings as well as local ENT chapters. He has gone to teach surgical residents, medical students, and physician assistants in both hospital and office settings.

Dr. Kantu is an active member of multiple Academies including the American Academy of Otolaryngology, the American Academy of Otolaryngologic Allergy, The American Academy of Sleep Medicine, The American Rhinologic Society, and the Kings County Medical Society. He was recently inducted into the prestigious American College of Surgeons, becoming recognized as a Fellow of this elite national organization.

Dr. Manoj Kantu's range of expertise covers all aspects of the ears, nose, throat, head and neck. He is excited to answer any & all questions or concerns relating to the ears, nose, throat, sinuses, and neck.

Specialty Services at both office locations include : -Balloon Sinuplasty, a proven means of clearing refractory sinusitis within minutes without hospitalization or general anesthesia. -Comprehensive Allergy Testing & Immunotherapy following guidelines set by the American Academy of Otolarynologic Allergy -Chemo Patch Testing for patients with suspected Atopic Dermatitis. -Radiofrequency Turbinoplasty -Longterm breathing improvement following a 10 minute procedure, with minimal side effect or time off from work. -Snoring Surgery -Complete Adult & Pediatric Audiologic Evaluation. -Hearing Aid Evaluation -Balance Testing with Video-Electronystagmography (V-ENG) -Surgery for chronic ear disease -Myringotomy with or without tube -Myringoplasty

Dr. Manoj Kantu has established an outstanding reputation for his state-of-the-art approach to all disorders of the head and neck. He and his family partners look forward to providing each and every individual the best care possible.
Language
English, French, Russian, Arabic, Creole, Indian (Hindi), Spanish
Hospital Affiliations
Mount Sinai Beth Israel
Mount Sinai Brooklyn
New York Eye and Ear Infirmary of Mount Sinai