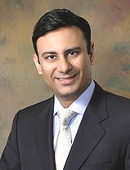 Video Visit Available
Accepting New Patients
Mount Sinai Doctors
Accepting New Patients
Mantu Gupta, MD
Urology
Book an Appointment
About Me
Clinical Focus
Education & Certifications
Awards
Locations
Insurance
Patient Experience Rating
Industry Relationships
About Me
Dr. Mantu Gupta is Professor of Urology, Icahn School of Medicine at Mount Sinai, Chair of Urology at Mount Sinai West and Mount Sinai St. Luke's Hospitals, and Director of Endourology and Stone Disease for the Mount Sinai Health System.

Dr. Gupta is recognized as a world leader in the research and treatment of urinary stone disease, ureteropelvic junction obstruction, urinary tract obstruction, and upper tract urothelial malignancies, having pioneered many of the techniques in current use. He is recognized as one of the leading endoscopic, percutaneous, and minimally invasive surgeons in the world, having performed over 10,000 major endourological procedures. Dr. Gupta is unique in that he employs a nurturing, compassionate, and holistic approach to the management of stone disease, utilizing alternative medical, nutritional and preventive strategies. https://www.youtube.com/watch?v=psI_7hk7MuA&feature=youtu.be
Prior to joining Mount Sinai, Dr. Gupta served as Associate Professor, Director of Endourology and Director of the Kidney Stone Center at Columbia University Medical Center for the last 18 years.

The recipient of numerous honors and awards, Dr. Gupta was given a Presidential Gold Medal by President Ronald Reagan for his academic achievements and has served as a visiting professor both within the United States and throughout the world. He is a frequent lecturer and moderator at national and international meetings and has published extensively in major peer-reviewed journals and authored numerous book chapters. Additionally, Dr. Gupta teaches various surgical skills courses throughout the world and has served as editor and guest editor for numerous publications including the Journal of Endourology, the Journal of Urology, the Indian Journal of Urology, and Urology.

Dr. Gupta was a member of the prestigious Honors Program in Medical Education at Northwestern University where he earned a combined BS-MD degree with distinction and was elected to the Alpha Omega Alpha Honor Society. He subsequently did his Urology residency at the top ranked University of California at San Francisco and completed a fellowship in Endourology at Long Island Jewish Medical Center under the tutelage of the founding father of Endourology.

Dr. Gupta sees patients at the Kidney Stone Center of Mount Sinai in midtown (625 Madison Avenue), near Mount Sinai Medical Center at 1070 Park Avenue, and at Mount Sinai West (425 West 59th Street). His office can be contacted by calling 212-241-1272 or 212-241-2455.
Meet Dr. Gupta: Video link - https://www.youtube.com/watch?v=4oxo7iYeF9Y
Mount Sinai Kidney Stone Center: https://www.mountsinai.org/care/urology/services/kidney-stones
World Kidney Stone Institute: http://www.worldkidneystoneinstitute.com
Dr. Gupta Patient Stories:
https://www.mountsinai.org/about/patient-stories/two-sisters-consider-mount-sinais-dr-mantu-gupta-their-rock
Language
Position
PROFESSOR | Urology, SITE CHAIR, UROLOGY, MOUNT SINAI WEST, MOUNT SINAI MORNINGSIDE
Hospital Affiliations
Mount Sinai Beth Israel
Mount Sinai Morningside
Mount Sinai Brooklyn
Mount Sinai Queens
The Mount Sinai Hospital
New York Eye and Ear Infirmary of Mount Sinai
Mount Sinai West
Download the CV