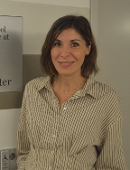 Maria Del Mar Cortes, MD
Mar Cortes (Preferred Name)
About Me
Education & Certifications
Awards
Research
Locations
About Me
Dr. Cortes joined the Department of Rehabilitation and Human Performance at the Icahn School of Medicine at Mount Sinai in the summer of 2018. Most recently, she was Director of the Human Spinal Cord Injury Repair Laboratory at Burke Neurological Institute and Assistant Professor of Rehabilitation Medicine at Weill Medical College of Cornell University. The primary goals of Dr. Cortes's research are to understand neural plasticity and its clinical implications and to develop novel individualized rehabilitation strategies to promote motor recovery and improve quality of life for patients with mobility impairment.
Her studies focus on how the brain is connected to the spinal cord and how the descending motor commands are conducted, processed and executed along the central nervous system axes to perform specific movements. She is especially interested in promoting spinal cord plasticity after an injury by facilitating the function of the spared connections.
Dr. Cortes investigates how to activate, modulate and reorganize brain and spinal networks in order to restore motor function in people affected by neurological disorders, such as spinal cord injury or stroke. In her studies, Dr. Cortes couples state-of-the-art robotic technology and non-invasive brain and spinal stimulation techniques to understand the mechanisms of motor dysfunction and improve motor control.
Language
Position
ASSISTANT PROFESSOR | Rehabilitation and Human Performance
Research Topics
Neurology, Neuromodulation, Neurophysiology, Neuroscience, Rehabilitation, Spinal Cord