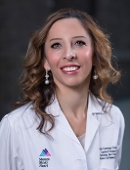 Video Visit Available
Accepting New Patients
Mount Sinai Doctors
Accepting New Patients
Maria Giovanna Trivieri, MD, PhD
Cardiology (Heart), Internal Medicine, Cardiovascular Disease (Heart Disease)
Book an Appointment
About Me
Education & Certifications
Locations
Insurance
Patient Experience Rating
Industry Relationships
About Me
Dr. Maria Giovanna Trivieri's career has a strong academic foundation based on broad-based multidisciplinary and international training. She received her Medical Degree and PhD from the University of Pisa. She subsequently completed her residency in Internal Medicine and fellowship in Cardiology at the University of Toronto and became Board Certified from the Royal College of Physician and Surgeon of Canada as well as the American Board of Internal Medicine, Cardiology and Nuclear Medicine. Dr. Trivieri currently holds unrestricted and independent Medical Licenses for the USA (New York), Canada (Ontario, CPSO) and Italy.
In 2014, Dr. Trivieri moved to New York to receive advanced training in Heart Failure and Cardiac Transplantation. While at Mount Sinai, she has been involved in landmark studies on the use of PET/MRI for the assessment of infiltrative cardiomyopathy and has acquired extensive expertise applying this non-invasive imaging modality for the diagnosis of Amyloid and Sarcoid Cardiomyopathies.
She is at present a faculty member in the Heart Failure and Cardiac Transplant Division and the Medical Director of the Pulmonary Hypertension Program.
In addition to her clinical responsibilities, Dr. Trivieri is actively involved in translational research. Her goal is to develop a multidisciplinary program centered on key molecular mechanisms responsible for the onset and progression of Heart Failure and Pulmonary Hypertension. To achieve those objectives, Dr. Trivieri utilizes state of the art techniques of genetic engineering, stem cell biology and viral mediated gene therapy approaches.
Throughout the course of her career, Dr. Trivieri has received numerous awards and fellowship from the Italian Ministry of Education, the Scuola Superiore Sant'Anna/Italian "Grand Ecoles", the Heart and Stroke foundation of Canada, the Department of Medicine of the University of Toronto, the Richard Lewar Center of Canada, the Thalassemia Foundation of Canada and the NIH (T32 training grants). She has authored several original high-impact papers, abstracts, book chapter and reviews in basic and clinical cardiovascular medicine. At present, she is founded by a KL2 award (KL2 TR001435).
Office Location
The Mount Sinai Hospital
1190 5th Avenue, Box 1030
New York, NY 10029-6574
Telephone: 212-241-595 Fax: 212-241-3684
Clinic Location
The Mount Sinai Hospital
The Lauder Family Cardiovascular Ambulatory Center
Telephone: 212-241-595 Fax: 212-241-3684
Language
Position
ASSISTANT PROFESSOR | Medicine, Cardiology, ASSISTANT PROFESSOR | Diagnostic, Molecular and Interventional Radiology
Hospital Affiliations
Mount Sinai Morningside
Mount Sinai Queens
The Mount Sinai Hospital
Mount Sinai West
Research Topics
Cardiovascular, Imaging, Induced pluripotent stem cells, MRI, Molecular Biology, Positron Emission Tomography, Tissue Engineering, Transgenic Mice, Translational Research