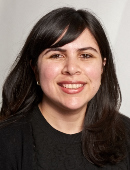 Maria J Rosa, DrPH
About Me
María José Rosa, DrPH, is an environmental epidemiologist and Assistant Professor in the Department of Environmental Medicine and Public Health at the Icahn School of Medicine at Mount Sinai. She is also a member of the Mount Sinai Institute for Exposomic Research, which studies the effects of environmental exposures on health and development throughout the lifespan.
Dr. Rosa is experienced in the analysis of ambient air pollution measures, respiratory health metrics, and the implementation of respiratory projects on a global scale. She is studying the link between in utero and early-life exposure to ambient air pollution and stress, and children's respiratory health. One of her main goals is to identify potential critical windows of susceptibility during development to these environmental factors, as well as the joint effects of air pollution and stress, in order to pinpoint vulnerable individuals and help prevent respiratory illnesses in childhood. Dr. Rosa takes an interdisciplinary approach to her work, integrating existing studies on stress, air pollution, and molecular epidemiology.
Prior to her faculty appointment in the Department of Environmental Medicine and Public Health at Mount Sinai, Dr. Rosa completed two postdoctoral fellowships in the department, including in pediatric environmental health and another in occupational and environmental medicine. She has worked as an expert author for the United States Environmental Protection Agency, served as Co-Chair of the Mistreatment Resource Panel at the Icahn School of Medicine, and is the recipient of several awards and grants, including a K99 Career Transition grant from NIH for her work on ambient air pollution and respiratory health.
Language
Position
ASSISTANT PROFESSOR | Environmental Medicine & Public Health