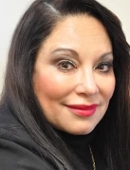 Maritza Perez, MD
About Me
Maritza I. Perez, M.D.
Specializes in Mohs Micrographic, Laser, and Cosmetic Surgery
Dr. Perez is certified by the American Board of Dermatology and the College of Mohs Micrographic Surgery and is the Director of Cosmetic Dermatology at St. Luke's Roosevelt Medical Center in New York. She is also Associate Director of Procedural Dermatology at Beth Israel Medical Center in New York City and Associate Professor of Clinical Dermatology at Mount Sinai Icahn School of Medicine. Her dermatology private practice, Advanced Dermaesthetics, is located in New Canaan, CT
Dr. Perez is an active member in numerous dermatology organizations, such as the American Society for Dermatologic Surgery, American Women Society for Dermatologic Surgery, American Society for Laser in Surgery and Medicine, American Academy Dermatology Women Association, Dermatology Foundation, and is Senior Vice President for the Skin Cancer Foundation.
Dr. Perez has published over 100 original articles, chapters, case reports and abstracts that have appeared in medical journals such as Journal of Investigative Dermatology, New England Journal of Medicine, Yale Journal of Biology and Medicine, Journal of Transplantation, American Journal of Dermatology, Achieves of Dermatology, Journal of Dermatologic Surgery, British Journal of Dermatology, Journal of Drugs in Dermatology, and Cosmetic Dermatology. Dr. Perez also authored a book titled Understanding Melanoma which is on its fourth edition. In addition, Dr. Perez has spoken at a number of dermatology engagements, including The World Congresses of Dermatology in Germany and Japan, local Dermatology meetings in Shanghai and Beijing, China, and annual American Academy of Dermatology meetings, Orlando Dermatology and Cosmetics Convention, and Skin of Color Series, Annual Dermatology Conventions in the Philippines, Puerto Rico, Dominican Republic, Chile, Colombia and Argentina, and International Laser Congresses in Santiago de Chile and Vinas Del Mar in Chile, Sao Paulo in Brazil, and Paris and Marseille, in France. Dr. Perez has served as scientific advisor and consultant for some cosmetics companies including Procter & Gamble and L'Oreal. Dr. Perez has been recognized as one of the best Dermatologist and Cosmetic Dermatologists in the years 1999-2005. Recently, January 17, 2014, received The Leaders of Distinction Awards in the field of Aesthetics given by the Journal of Drugs in Dermatology peered group selection.
Dr. Perez is a graduate of the University of Puerto Rico, School of Medicine where she also completed her residency in dermatology. In addition, she completed post-doctoral training in Immunodermatology at Columbia College of Physicians and Surgeons in New York, NY and Dermatologic Surgery including Mohs Micrographic and Laser Surgery and Cosmetic Dermatologic Surgery at New York University.
Dr. Perez has had extensive media presence. Because she is bilingual, she is a Dermatologist advisor for Univision, and have been in Despierta America on multiple occasions. She has also been at Fox, Channel 5 early morning news as well as Today in NY. She has also been in vivo media in Puerto Rico, Dominican Republic and Madrid, Spain.
Dr. Perez has been happily married to her husband, Carlos Tulla MD for over three decades and is the mother of twin ladies, Kiara and Katrina Tulla who both are in Medical School. Kiara is at Prietzker School of Medicine in Chicago and Katrina is at Nova Southeastern College of Osteopathic Medicine.
Language
Position
CLINICAL PROFESSOR | Dermatology