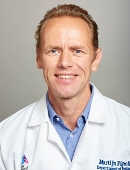 Video Visit Available
Accepting New Patients
Mount Sinai Doctors
Accepting New Patients
Martijn Figee, MD, PhD
Psychiatry
Book an Appointment
About Me
Education & Certifications
Locations
Insurance
Publications
Patient Experience Rating
Industry Relationships
About Me
Dr. Figee is a psychiatrist and associate professor of Psychiatry, Neurosurgery, Neurology and Neuroscience working at the Nash Family Center for Advanced Circuit Therapeutics (C-ACT). Dr. Figee is director of the Mount Sinai Interventional Psychiatry Program, focusing on the psychiatric application and study of neuromodulation, in particular deep brain stimulation (DBS) and transcranial magnetic stimulation (TMS). He received his medical degree, residency and PhD from the University of Amsterdam.
His research focuses on the role of reward and mood circuits in neuropsychiatric disorders, such as obsessive-compulsive disorder (OCD), depression and Parkinson's disease, and how these circuits can be modulated with DBS. He pioneered the first application of fMRI in DBS-implanted individuals. He has published numerous scientific articles and book chapters on DBS for psychiatry. Dr. Figee aims to progress DBS and other types of neuromodulation as neuropsychiatric interventions, by investigating its effects on cross-diagnostic outcomes and associated neural networks.
New Patient Appointments
For new appointments with Dr. Figee, complete our intake form or email.
Clinical Focus
Deep Brain Stimulation
Obsessive-compulsive disorder
Major depressive disorder
Tourette Syndrome
Parkinson's Disease
Tardive and primary dystonia
Languages
Hospital Affiliations
Mount Sinai West
The Mount Sinai Hospital
Language
Position
ASSOCIATE PROFESSOR | Psychiatry, ASSOCIATE PROFESSOR | Neurosurgery
Hospital Affiliations
Mount Sinai Beth Israel
Mount Sinai Morningside
Mount Sinai Brooklyn
Mount Sinai Queens
The Mount Sinai Hospital
Mount Sinai West