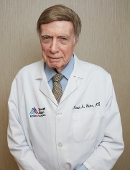 Marvin A Leder, MD
About Me
Dr. Leder is an Assistant Professor of Medicine at Mount Sinai School of Medicine in New York City. He graduated from New York University where he received a Bachelor of Arts degree. He then went on to study medicine at State University of New York Upstate, New York, where he graduated with a Doctor of Medicine degree. His post graduate training included an internship at Kings County Hospital Center; 1st year Resident in Internal Medicine at the Manhattan V.A.; 2nd year Medical Resident at Montefiore Medical Center; and 3rd year Medical Resident, GI Service, Montefiore Medical Center.
Dr. Leder is Board Certified in Internal Medicine and Certified in both Bone Densitometry and Thyroid Ultrasound. He proudly served in the military as a lieutenant Commander in the United States Navy where he ran the Diabetes Endo Clinic at the Philadelphia Naval Hospital.
Among the professional societies that Dr. Leder belongs to are the New York Diabetes Association, The Endocrine Society, The Metropolitan Diabetes Association, the National Lipid Association, and the American Association of Clinical Endocrinology. He is a Fellow of the American College of Physicians and a Fellow of the American College of Endocrinology.
Dr. Leder has received numerous awards including seven Certificates of Recognition for Delivery of Quality Diabetes Care from the National Committee for Quality Assurance of the American Diabetes Association. He is also the recipient of the Theresa Lang Lifetime Achievement Award for Outstanding Physician, New York Hospital Queens. He has been listed in Castle Connolly Top Doctors, Endocrinology, Diabetes and Metabolism; and the American Diabetes Association's "Who's Who in Diabetes and Metabolism."
Dr. Leder has been in practice in the Flushing and Forest Hills area since 1970 and has dedicated much of his practice to the care of patients with diabetes.
Language
Position
ASSISTANT PROFESSOR | Medicine, General Internal Medicine