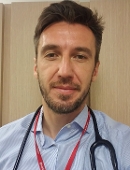 Matko Kalac, MD, PhD
About Me
Matko Kalac, MD, PhD, is Assistant Professor of Medicine (Hematology and Medical Oncology) at the Icahn School of Medicine at Mount Sinai. A physician scientist, Dr. Kalac provides clinical care for patients with lymphomas and conducts translational research at Mount Sinai's Precision Immunology Institute.
Dr. Kalac is involved in the development of novel treatment options for patients with Non-Hodgkin lymphomas, and he serves as a principal investigator on several of clinical trials. He has a robust research program focusing on identifying novel targets in mature T cell lymphomas including ATLL, a rare malignancy associated with Human T-cell Leukemia Virus 1 (HTLV1).
Dr. Kalac is a recipient of the prestigious Young Investigator Award from the American Society of Clinical Oncology for translational research in lymphoma. He is also the recipient of a TL1 Clinical Research Training Award from the National Center for Advancing Translational Sciences at the National Institutes of Health.
Language
Position
ASSISTANT PROFESSOR | Medicine, Hematology and Medical Oncology