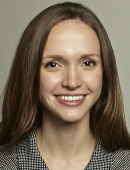 Megan M Niedzwiecki, PhD
About Me
Megan Niedzwiecki is an Assistant Professor in the Department of Environmental Medicine and Public Health at the Icahn School of Medicine at Mount Sinai and a member of the Mount Sinai Institute for Exposomic Research and the Transdisciplinary Center on Early Environmental Exposures. She is an environmental and molecular epidemiologist with research interests in the exposome, metabolomics, the health effects of complex metal exposures, and nutritional modulation of toxicant exposures.
Dr. Niedzwiecki investigates the health effects of complex environmental exposures over the lifecourse by incorporating cutting-edge tools to better characterize the exposome, including high-resolution untargeted metabolomics and mass spectrometry imaging. She leads and collaborates on several studies that integrate these tools, including investigating the mechanisms linking time-varying air pollution exposures to maternal and adolescent health, including mental health and cardiometabolic outcomes; the metabolic impacts of arsenic exposure and folic acid supplementation in Bangladesh; metabolomic predictors of birth outcomes in New York and Boston; exposomic characterization of minimally-invasive alternative biospecimens for human cohort studies; and spatial analysis of metal mixture distributions and biological response markers in human tissues.
She received her PhD in Environmental Health Sciences from Columbia University in 2014. Prior to her faculty appointment at Mount Sinai, she completed postdoctoral fellowships in molecular epidemiology and toxicology at the the Icahn School of Medicine at Mount Sinai and the HERCULES Exposome Research Center at Emory University.
Language
Position
ASSISTANT PROFESSOR | Environmental Medicine & Public Health