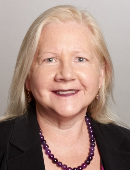 Melinda Lantz, MD
About Me
Awards
Research
Locations
Publications
About Me
Melinda S Lantz MD is Vice Chair and Chief of Geriatric Psychiatry for Mount Sinai Beth Israel.
She is the Program Director of the Geriatric Psychiatry Fellowship Program and the Addiction Psychiatry Fellowship programs fr Mount Sinai Beth Israel. Dr. Lantz is an Associate Professor of Psychiatry at the Icahn School of Medicine at Mount Sinai.
Dr. Lantz has served as President and member of the Board of Directors of the American Association of Geriatric Psychiatry. She is the author of numerous publications and presentations in the area of dementia care and late life mental illness. Dr. Lantz is interested in Integrative Medicine and Psychiatry.
Her clinical focus is Geriatric psychiatry and Dementia related symptoms.
Awards include The Icahn School at Mount Sinai Faculty Council Senior Educator Award 2020, The Mount Sinai Beth Israel Heart Award 2019, Best Doctors of New York 2020, 2019, 2018, 2017, 2016, 2015
Language
Position
ASSOCIATE PROFESSOR | Psychiatry