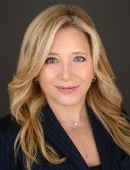 Michal Elovitz, MD
About Me
Michal Elovitz, MD, is a physician-scientist, mentor and advocate. She is the Dean of Women's Health Research at the Icahn School of Medicine at Mount Sinai. She is also the Director of the Women's Biomedical Research Institute, which is focused on understanding the female reproductive tract and sex-specific biology to make meaningful advances in women's health science and women's health care.
Dr. Elovitz has been actively involved in fundamental and translational research for more than 20 years. Her research is or has been funded by the March of Dimes, Burroughs Wellcome Fund, National Institute of Child Health and Development, National Institute for Nursing Research, the National Institute of Mental Health, and the National Institute for Allergy and Infectious Diseases. Dr. Elovitz supports, fosters, participates, and advocates for collaborative research, from the bench to the bedside, to advance the mission of improving health outcomes for women and their children. She is a strong believer in team science and has successfully brought in diverse disciplines to advance women's health research. Her research program has focused on understanding the mechanisms and consequences of adverse reproductive and pregnancy outcomes both for the pregnancy of interest and for implications for the long-term health of the mother and child. Her research integrating immunology and microbiology into pregnancy health has led to novel discoveries for reproductive health.
Dr. Elovitz believes that scientists are obligated to support, train, and empower the next generation of researchers. As such, she has created several mentoring programs and is active in supporting women in science and medicine. She is a public advocate for reproductive rights, gender, and racial equity.
Language
Position
DEAN OF WOMEN'S HEALTH RESEARCH, FOUNDING DIRECTOR, WOMEN'S BIOMEDICAL RESEARCH INSTITUTE, SENIOR FACULTY | Obstetrics, Gynecology and Reproductive Science
Multi-Disciplinary Training Areas
Immunology [IMM]