Profiles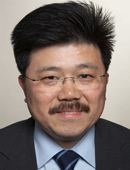 Ming-Ming Zhou, PhD
About Me
Education & Certifications
Research
Locations
About Me
Language
Position
PROFESSOR & CHAIR | Pharmacological Sciences, CO-DIRECTOR EXPERIMENTAL THERAPEUTICS INSTITUTE, PROFESSOR | Oncological Sciences
Research Topics
AIDS/HIV, Alzheimer's Disease, Cancer, Chromatin, Drug Design and Discovery, Gene Regulation, Leukemia, Protein Complexes, Protein Structure/Function, Signal Transduction, Spectroscopy, Structural Biology, T Cells, Transcription Factors, Transcriptional Activation and Repression
Multi-Disciplinary Training Areas
Cancer Biology [CAB], Genetics and Genomic Sciences [GGS], Pharmacology and Therapeutics Discovery [PTD]
About Me
Language
Position
PROFESSOR & CHAIR | Pharmacological Sciences, CO-DIRECTOR EXPERIMENTAL THERAPEUTICS INSTITUTE, PROFESSOR | Oncological Sciences
Research Topics
AIDS/HIV, Alzheimer's Disease, Cancer, Chromatin, Drug Design and Discovery, Gene Regulation, Leukemia, Protein Complexes, Protein Structure/Function, Signal Transduction, Spectroscopy, Structural Biology, T Cells, Transcription Factors, Transcriptional Activation and Repression
Multi-Disciplinary Training Areas
Cancer Biology [CAB], Genetics and Genomic Sciences [GGS], Pharmacology and Therapeutics Discovery [PTD]
About Me
Language
Position
PROFESSOR & CHAIR | Pharmacological Sciences, CO-DIRECTOR EXPERIMENTAL THERAPEUTICS INSTITUTE, PROFESSOR | Oncological Sciences
Research Topics
AIDS/HIV, Alzheimer's Disease, Cancer, Chromatin, Drug Design and Discovery, Gene Regulation, Leukemia, Protein Complexes, Protein Structure/Function, Signal Transduction, Spectroscopy, Structural Biology, T Cells, Transcription Factors, Transcriptional Activation and Repression
Multi-Disciplinary Training Areas
Cancer Biology [CAB], Genetics and Genomic Sciences [GGS], Pharmacology and Therapeutics Discovery [PTD]
Education
PhD, Purdue University
, Abbott Laboratories
Research
Research
Human genomic DNA is the ultimate blueprint of our heredity. Our current knowledge of gene expression of the human genome, controlled by both genetic and epigenetic factors, is still limited. The research in the Zhou Lab is directed at better understanding of the biology of epigenetic control of gene expression of the human genome to attain both mechanistic insights and rational design of small-molecule ligands that modulate gene expression. The emphasis is on the role of chemical modifications of chromatin in control of gene transcription (such as acetylation and methylation). Towards this end, we are developing an interdisciplinary epigenomics research paradigm that is build upon an integrated approach of structural and chemical biology, and molecular/cell chromatin biology. To understand epigenetic gene regulation at the fundamental molecular level, we simultaneously conduct interdependent research in: (1) Family-wide functional profiling of proteins in chromatin modifications and molecular interactions; (2) Structure-based functional design of small-molecule chemical probes for transcription-associated proteins; and (3) Chemical epigenomics study of histone-directed chromatin biology in health and disease.
Our research has broad implications in human biology and disease, ranging from cell development, to stem cell self-renewal and differentiation, and re-programming to human cancer and inflammation, as well as neurodegenerative disorders.
Publications
Borah, J.C., Mujtaba, S., Karakikes, I., Zeng, L., Muller, M., Zhang, W., Gerona-Navarro, G., Hajjar, R.J., & Zhou, M.-M. (2011) A Small Molecule Binding to the Co-Activator CREB-Binding Protein Blocks Apoptosis in Ischemic Cardiomyocytes. Chemistry & Biology 18(4):531-41.
Gerona-Navarro, G., Rodríguez-Fernández, Y., Mutjaba, S., Frasca, A., Patel, J., Plotniov, A.N., Osman, R. & Zhou, M.-M. (2011) Rational Design of Cyclic Peptide Modulators of the Transcriptional Coactivator CBP: A New Class of p53 Inhibitors. J. Am. Chem. Soc. 133(7): 2040-2043.
Li, J.J., Wei, H., & Zhou, M.-M. (2011) Structure-guided design of a methyl donor cofactor that controls a viral histone lysine 27 methyltransferase. Journal of Med. Chem. 54(21):7734-8.
Zeng, L., Zhang, Q., Li, SiDe, Plotnikov, A.N., Walsh, M.J., & Zhou, M.-M. (2010) Mechanism of Multivalent Histone Interactions with Human DPF3b in Gene Transcription. Nature 466, 258-262.
Wei, H., & Zhou, M.-M. (2010) Dimerization of a Viral SET Protein Endows its Function. Proc. Natl. Acad. Sci. USA 107(43): 18433-8.
Yap, K.L., Li, S., Munoz-Cabello, A.M., Raguz, S., Zeng, L., Mujtaba, S., Gil, J., Walsh, W.J., & Zhou, M.-M. (2010) Molecular Interplay of the Non-coding RNA ANRIL and Methylated Histone H3 Lysine 27 by Polycomb CBX7 in Transcriptional Silencing of INK4a. Molecular Cell 38(5): 662-674.
  Mujtaba, S., Manzur, K.L., Gurnon, J.R., Kang, M., Van Etten. J.L. & Zhou, M.-M. (2008) Epigenetic Transcription Repression of Cellular Genes by a Viral SET Protein.
Nature Cell Biology
10, 1114-1122.
Zeng, L., Yao, K.L., Ivanov, A.V, Wang, X., Mujtaba, S., Plotnikova, O., Rauscher, F.J., & Zhou, M.-M. (2008) Structural Insights into the Functional Cooperativity of the Tandem PHD Finger-Bromodomain of Human KAP1 in Sumoylation-Dependence Gene Silencing. Nature Structural & Molecular Biology 15, 626-633.
Mujtaba, M., He, Y., Zeng, L., Yan, S., Plotnikova, O., Sachchidanand, Sanchez, R., Zeleznik-Le, N., Ronai, Z., & Zhou, M.-M. (2004) Structural Mechanism of the Bromodomain of the Coactivator CBP in p53 Transcriptional Activation. Molecular Cell 13, 251-263.
Yan, K.S., Yan, S., Farooq, A., Han, A., Zeng, L., & Zhou, M.-M. (2003) Structure and Conserved RNA Binding of the PAZ Domain. Nature 426, 469-474.
Mujtaba, S., He, Y. Zeng, L., Farooq, A., Carlson, J., Ott, M., Verdin, E., & Zhou, M.-M. (2002) Structural Basis of HIV-1 Tat Recognition by P/CAF Bromodomain, Molecular Cell 9, 575-586.
Dhalluin, C., Yan, K., Plotnikova, O., Lee, K.W., Zeng, L., Kuti, M., Mutjaba, S., Goldfarb, M.P., & Zhou, M.-M. (2000) Structural Basis of SNT PTB Domain Interactions with Distinct Neurotrophic Receptors. Molecular Cell 6, 921-29.
Dhalluin, C., Carlson, J.,Zeng, L., He, C., Aggarwal, A.K., & Zhou, M.-M. (1999) Structure and Ligand of a Histone Acetyltransferase Bromodomain. Nature 399, 491-496.