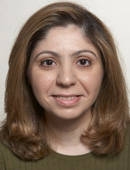 Mount Sinai Doctors
Mirna Chehade, MD, MPH
Pediatric Gastroenterology, Pediatrics
Book an Appointment
About Me
Clinical Focus
Education & Certifications
Awards
Locations
Insurance
Publications
Patient Experience Rating
Industry Relationships
About Me
Dr. Mirna Chehade, MD, MPH is Professor of Pediatrics and Medicine at the Icahn School of Medicine at Mount Sinai and Mount Sinai Kravis Children's Hospital in New York, New York. She is a board-certified pediatric gastroenterologist. She is the founding director of the Mount Sinai Center for Eosinophilic Disorders (MSCED). The Center provides cutting-edge clinical care, research, and support for patients with eosinophilic gastrointestinal diseases and their families, including eosinophilic esophagitis (EoE) and other eosinophilic gastrointestinal disorders (EGIDs) such as eosinophilic gastritis, eosinophilic enteritis and eosinophilic colitis.
Dr. Chehade diagnoses and treats children and adults with these conditions. She endeavors to treat each patient holistically, with the awareness that she is treating a whole person, and quite often, an entire family, not solely a disease. At the MSCED, patients also have access to an allergist, dietitian, and feeding therapist, all with expertise in EGIDs, including EoE. Patients also have access to cutting-edge therapies through clinical research trials that are conducted at the MSCED under her direction and close supervision. With help from Dr. Chehade's entire team at the MSCED, personalized care is offered to every patient in a very coordinated and efficient manner, especially for those that have been struggling with their disease or have not been responding to standard-of-care therapies.
Since 2013, Dr. Chehade has been voted every year as a Castle Connolly top doctor in Pediatric Gastroenterology. In 2020, she received the Cullman Family Award for Excellence in Physician Communication. Dr. Chehade was also named as a Fellow of the American Gastroenterological Association (AGA) as well as the American Academy of Allergy, Asthma, and Immunology (AAAAI) in 2021. A prolific researcher, Dr. Chehade is involved in several ongoing studies, both publicly and privately funded: she is a site principal investigator in the Consortium of Eosinophilic Gastrointestinal Disease Researchers (CEGIR), principal investigator in several studies, and site principal investigator in multiple multi-center clinical studies of EGIDs.
Dr. Chehade has several publications on EGIDs, including the efficacy and safety of various therapies for EGIDs, potential reasons EGIDs are missed, and long-term outcomes of EGIDs. She is also a key contributor to international guidelines on the diagnosis and treatment of children and adults with EGIDs, including EoE. Dr. Chehade and her entire research team are dedicated to the exploration of EGIDs, identifying treatment methods, and ensuring a good quality of life for all individuals with EGIDs
Dr. Chehade is an active member in national and international organizations, including AAAAI, EAACI,NASPGHAN, and AGA. She is a fellow of the AGA and AAAAI. She serves as the Chair for the Rare Diseases Clinical Research Network Diversity sub-committee and Associate Chair for the CEGIR Diversity Research sub-committee. She also volunteers as a member of the medical advisory boards of the American Partnership for Eosinophilic Disorders (APFED) and the Campaign Urging Research for Eosinophilic Disease (CURED). Dr. Chehade is a frequently invited speaker at national and international meetings, and an invited reviewer for a number of highly-ranked gastroenterology and allergy journals.
Visit her website: https://labs.icahn.mssm.edu/chehadelab/
Language
Position
PROFESSOR | Pediatrics, Allergy and Immunology, PROFESSOR | Medicine, Gastroenterology
Hospital Affiliations
Mount Sinai Queens
The Mount Sinai Hospital